Krystle Rodriguez - stay-at-home-mom turned coffee shop entrepreneur
Women entrepreneurs are writing their own history
March is Women's History Month, and we're recognizing the occasion with stories about some of the inspiring women participating in FedEx-sponsored empowerment programs. 
In part 4 of our 4 part series, meet Krystle Rodriguez – owner of Hodgepodge Coffeehouse and a participant in the Babson College BWEL (Black Women's Entrepreneurial Leadership) program.
FedEx has been a sponsor of Babson College programs for women entrepreneurs since 2017.
When Krystle Rodriguez made the decision to go from stay-at-home mom to pursuing a long-held dream of creating an inclusive community space in the form of a coffee shop, she knew people questioned her sanity. "At least they didn't call me crazy to my face," she laughs. She opened Hodgepodge Coffeehouse in 2012 and now has 3 locations in Atlanta. 
"The vast majority of coffee houses are pretty sterile," she says.  "What differentiated us was that we wanted a space where people could go to gather or create or connect. Who knew that making people feel welcomed and appreciated would keep them coming back over and over again!"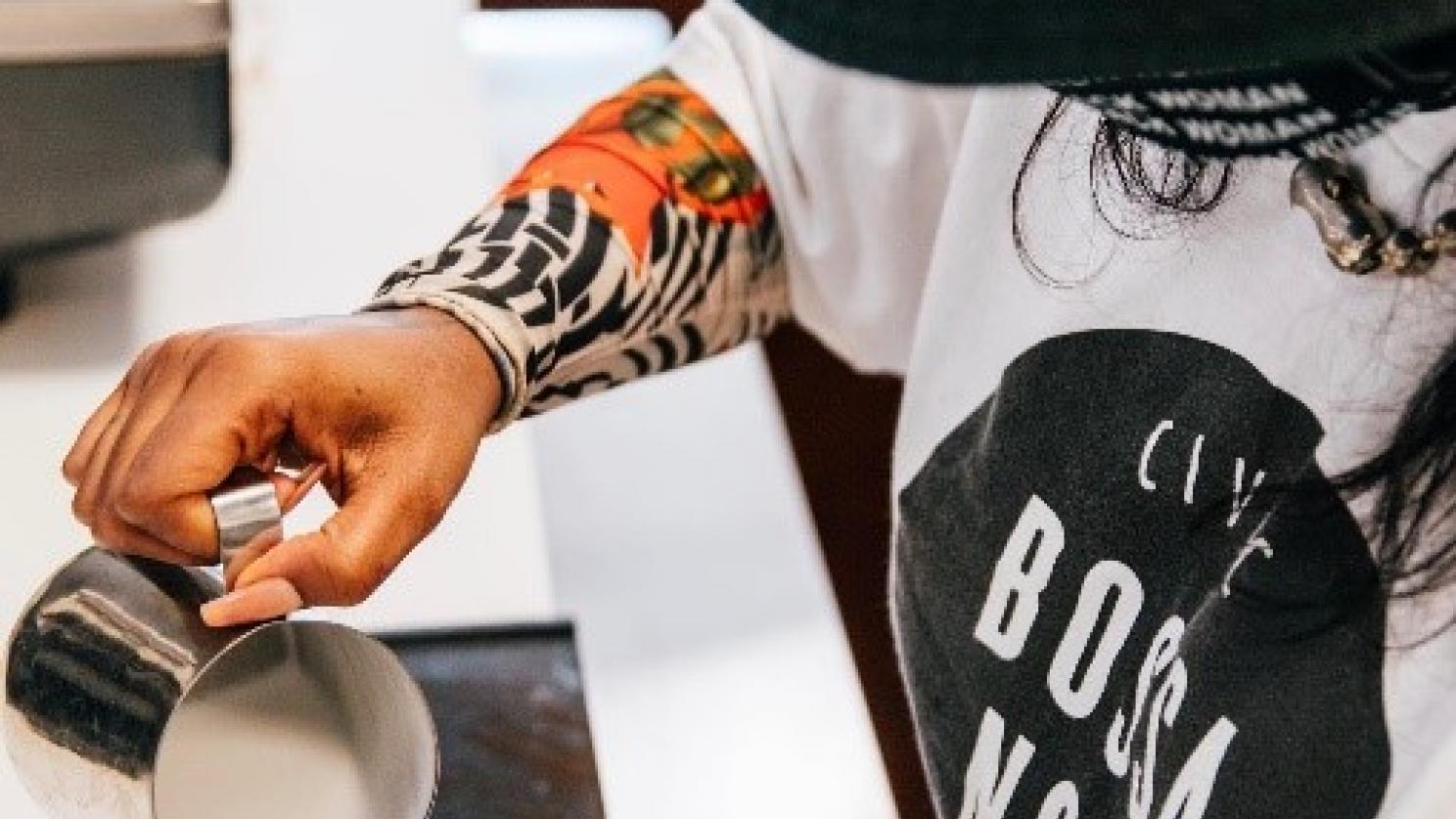 Before Hodgepodge, Krystle worked in the nonprofit sector, using her sociology degree to focus on child welfare.  But after marrying and getting pregnant with her first child, she reached a point that many women reach – "do I stay home with the baby or do I work 9-5 just to pay for child care?"
She chose to stay home. Adjusting to a one-income household was challenging, but the family made it work.  After the first six months, the urge to open that community space came back to the forefront.
With the help and encouragement of her husband and friends, she eventually opened the first location in East Atlanta.  In addition to homegrown coffee, Hodgepodge serves homemade pastries, lunch items, teas, and espresso drinks.  There is also a gallery space for local artists and a consignment program with local merchants.   
She took part in a training program for small businesses and had just completed a 5-year plan.  Then the pandemic hit.
"The 5-year plan went out the window. We stopped dine-in in March of 2020 and literally had 2 years of takeout only."
But she'd heard about the BWEL program and felt it would be amazing to be with a group of Black women with shared experiences – both personal and professional.
"The first day – it was so lovely – the community!  It was like 'Oh, you too?! So It's not just me?' It was so reaffirming. From then on, being in the program was like getting gentle but firm handholding."  Not only did it help alleviate some of the burnout she was experiencing at the time, but the program helped her understanding how to pivot.
"BWEL gave us very practical ways to navigate these ideas step-by-step.  So many times as an entrepreneur you just want to get from point A to point B, and then you look at all the hurdles in the way and it can be overwhelming.  But BWEL helped me to balance being able to look at where the business is now, where I want to go, and look at what resources are really needed to get there.  And take each step in bite-sized pieces."
She had planned to open a fourth location, but is pivoting away from a fourth storefront to focus on roasting her own coffee and wholesaling.
"We want to build back our 3 existing locations and then turn to roasting and selling our own coffee as well as our baked goods so that customers can get a sense of that Hodgepodge community in their own homes."
One of the most important lessons learned is that it's okay to adjust your expectations while you're in your plan. 
"For instance I look at my one year plan and say, yes, I could do this in 12 months.  But I'm married and I have two kids, is it right for me?  Maybe I take one part and make that the new plan instead of trying to tackle it all."
The one piece of advice she would give to aspiring African-American women entrepreneurs?
"Be open and flexible.  The final form of your business is going to take who knows how many reinventions.  As you're going along, if it doesn't look the way you thought it would, give it time. It's a process." 
***Photos courtesy of Krystle Rodriguez
More stories about women who have participated in the Babson College program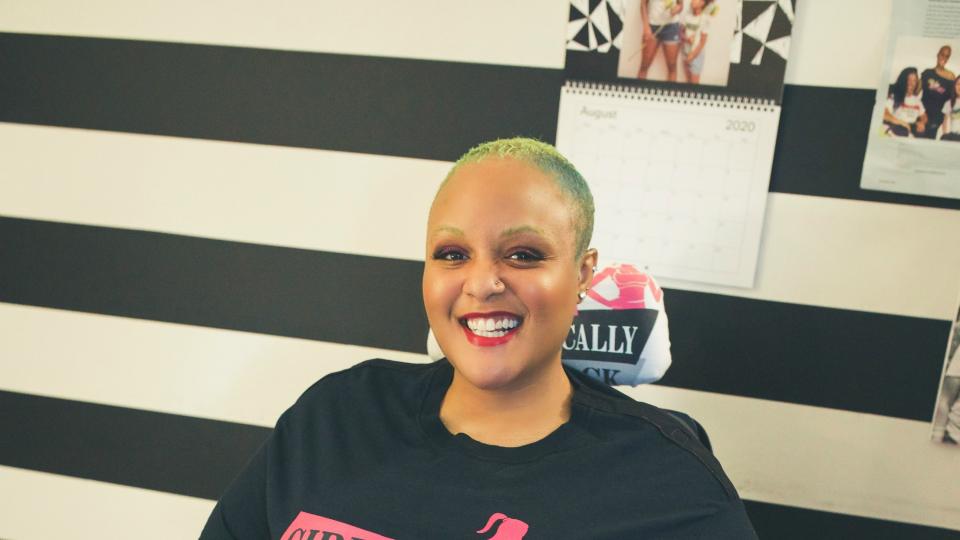 Keisha Greaves
In part 1 of our series about women writing their own history, we met Keisha Greaves who designs a line of t-shirts called Girls Chronically Rock. Keisha designed the shirts after she was diagnosed with Muscular Dystrophy to help inspire others with chronic illnesses to have confidence in themselves.
Keisha's story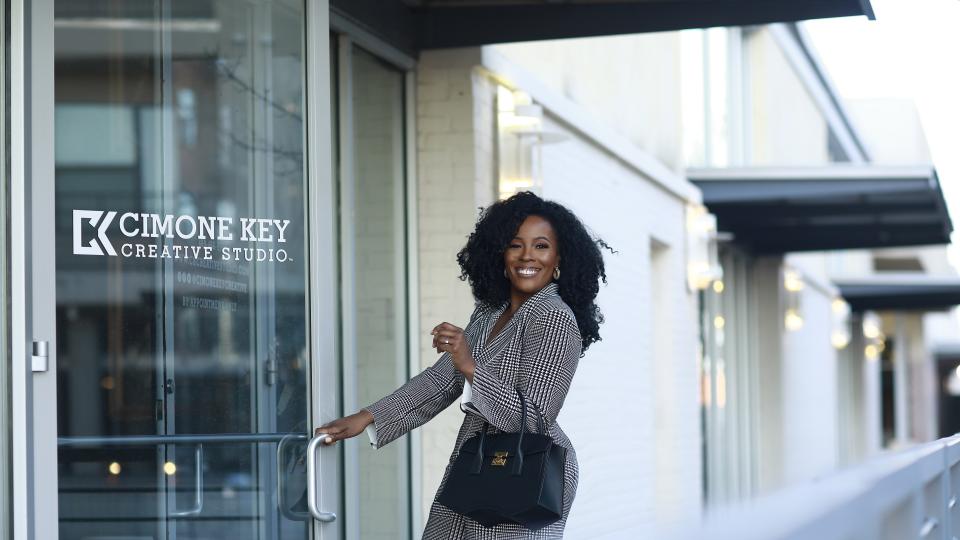 Cimone Key
In part 2 of our series about women writing their own history, we meet Cimone Key. After being declared legally blind at the age of 21, Cimone's mother used her savings to help her daughter receive sight-saving laser surgery. Learn how this experience led her to create Cimone Key Creative Services how the Babson program shaped her purpose
Cimone's story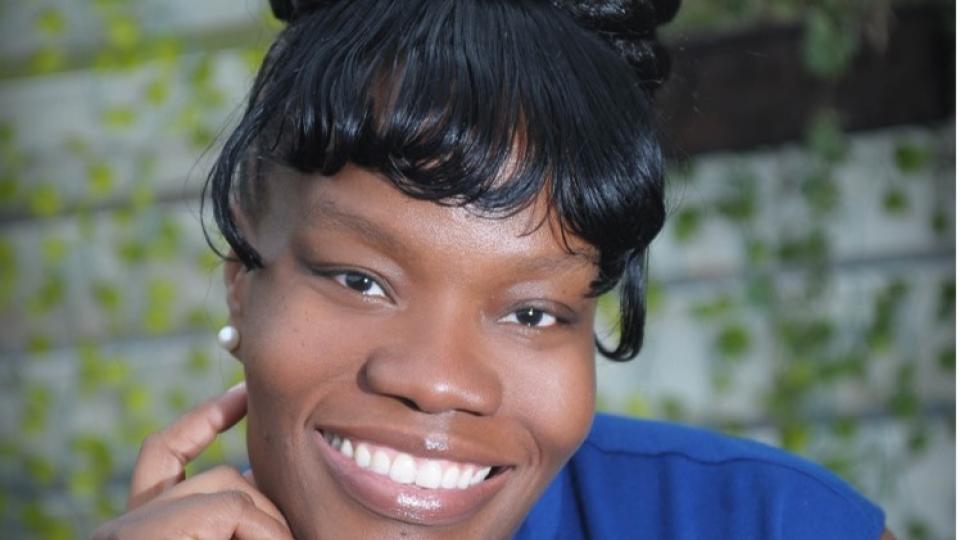 Krishna Powell
In part 3 of our series about women writing their own history, we meet Krishna Powell. In May of 2021, Krishna lost everything following a fire which destroyed her home. Learn how she's getting help from an unexpected source – her cohort members in the Babson College Black Women Entrepreneurial Leadership (BWEL) program.
Krishna's story