In honor of Women's History Month, FedEx is spotlighting three female-owned businesses who were recently a part of the FedEx E-Commerce Learning Lab, a program created alongside Accion Opportunity Fund to help small businesses owned by women and people of color develop an e-commerce presence.
Because we're committed to helping women everywhere get the tools they need to succeed, FedEx has opened applications for the second cohort of the FedEx E-Commerce Learning Lab now through April 1. This program will provide key insights and learning opportunities to help female small business owners venture into e-commerce and expand their reach with customers.
In this three-part series, we'll take a deep look into the first cohort of women, how their experiences have shaped their businesses, and how their journey to success is helping them to uplift other women and minority communities along the way.
The second business spotlight comes from India Russell and Lamont Stuckey's Everythang Sauce. Based in Springfield, Mass., Everythang Sauce is an accidental business. It was created when a catering company, Veganish Foodies, exploded in popularity thanks to a special, sweet, spicy sauce customers loved. After the sauce started selling out in farmers markets, they knew they had something special on their hands.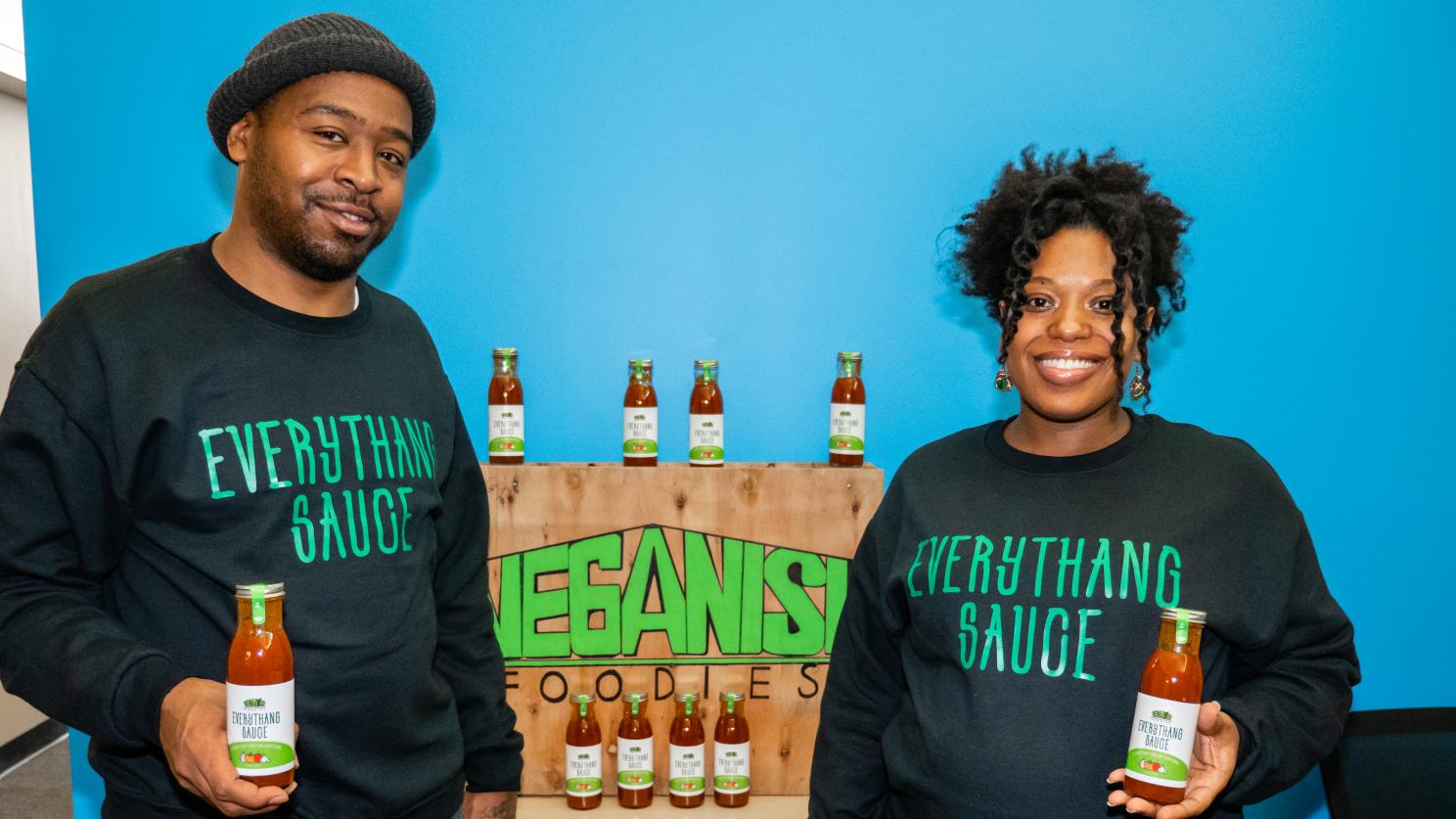 It isn't just their sauce bringing everyone together, either. They're also the founders of VegFest413, a food festival in Springfield, Mass. that offers healthy options to a community for which wholesome, nutritious food can be difficult or impossible to find. Now they're ready to share their sauce and love of healthy cooking to new customers around the country.
Name of business: Everythang Sauce & Veganish Foodies
Co-Owner/Co-Founder: India Russell
Location: Springfield, Mass.
Website: everythangsauce.com
Social media handles:
Tell us about your business:  
We run a collaborative family-owned business known for its affordable vegan and plant-based catering and a sauce that so perfectly blends sweet and spicy flavors, it can go on just about everything. The agave-based sauce works as a flavor enhancer that converts everyday meals and snacks into a gourmet experience. It's not just the sauce bringing everyone together, though. We also founded VegFest413 -- an annual vegan/plant-based festival in Springfield that provides and produces healthier alternatives to our food desert community. 
How was your business impacted during the pandemic?
When the pandemic hit, we had to pivot away from catering services and events to strictly selling our staple product, Everythang Sauce. Farmers' markets also became a thing of the past, so we really had to shift our energy into pushing out our main product in an online store.
What led you to apply for the FedEx E-Commerce Learning Lab and what did you hope to gain by participating in the program?
We were eager to apply to the FedEx E-commerce Learning Lab because we wanted the right tools and knowledge we needed to improve our online presence.  We started in an online store, but that wasn't driving sales enough, so we knew we needed to improve our Shopify store to increase online sales and engagement.
What were the most impactful lessons and/or sessions from the program?
The most impactful lesson for us was the product description course. Separating our sauce from our food meant we had to focus on changing our sales slogan, tagline and description so we could appeal to a broader audience. We couldn't stick to the niche health and vegan market. To attract new customers, we had to think outside the box and expand our product in order to cater to all types of foodies.
How did the program contribute to a successful holiday season?
The opportunity to sell our Everythang Sauce directly with FedEx and through the SOKONI website helped a lot. We loved that they not only advertised for us, but provided marketing content, too. Having professional product photos, fliers for each holiday, free shipping, and promotion online was a gamechanger. Other programs don't offer those kinds of services, so that was a big deal. It truly worked, and boosted our sales quite a bit.
What have you applied or incorporated into your business since graduating from the program?
Our marketing tactics improved. The tips and tricks we learned in the program helped us make our e-commerce store and social media pages more appealing and engaging. That was a priceless takeaway that we've continued to practice since. 
What advice do you have for other woman-owned small businesses who are considering applying to this program?
Sign up! Don't miss out on this incredible unique opportunity to learn a ton, connect with fantastic people, and take advantage of resources you won't find anywhere else.