Saying thank you to North Texas Food Bank on National Nonprofit Day
Have you ever wondered where your next meal is coming from or how to provide a healthy meal to your children when schools are closed? For families across North Texas, food insecurity was a daily reality before the pandemic. The financial strains imposed by COVID-19 left thousands more asking the same questions – many for the first time.
To fill the need, the North Texas Food Bank (NTFB) provided over 161 million meals to families in need between March 20, 2020, and June 30, 2021. This support continues as families begin to recover, and FedEx continues to be a part of the journey.
FedEx has a history of helping address food insecurity in communities where we operate around the globe. The FedEx Office Headquarters in Plano, Texas, a suburb of Dallas, contributes to this locally through their relationship with the NTFB.
Although in-person volunteering was not possible due to COVID-19, FedEx Office team members in Plano got creative in giving back during the holiday season. In addition to FedEx Office donating $10,000 to the NTFB, team members contributed 2,329 pounds of non-perishable food in FedEx Cares purple totes, while also remaining safe during the pandemic. That's over one ton of food!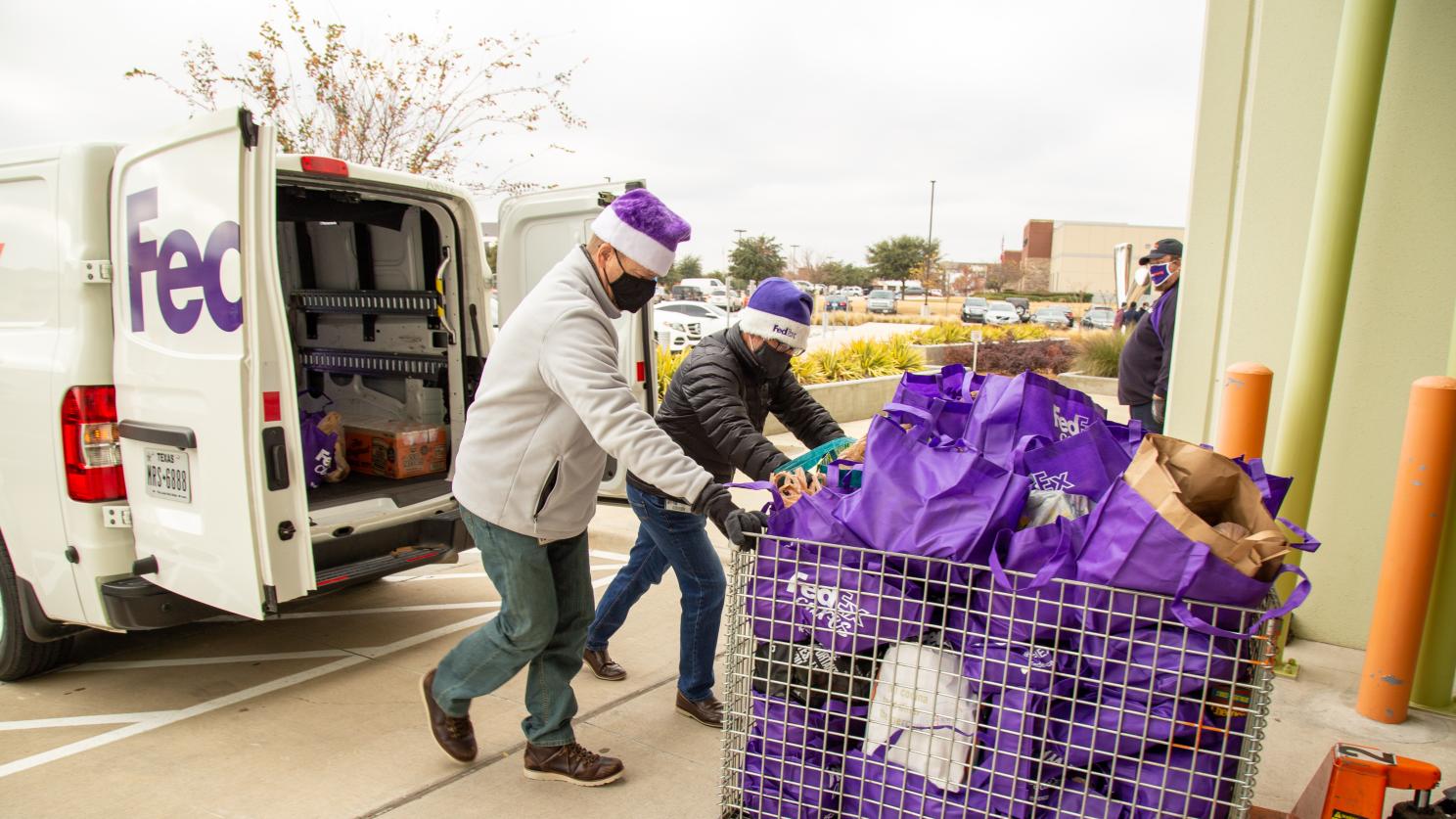 The NTFB was established in 1982 to combat food insecurity in 13 counties across North Texas. The NTFB has since become a member of the Feeding America Food Bank Network, the nation's largest domestic hunger-relief organization. This allows the NTFB to acquire and donate food and grocery products from national suppliers and distribute them to over 200 partner agencies in addition to providing operational support. This past year the NTFB provided 125.6 million meals to children, seniors, and families in need.
The relationship between the NTFB and FedEx Office Headquarters is extremely special and provides a way for team members to connect with their local community and give back to their neighbors in need. As Mike Preston, VP Network Planning and Ops, FedEx Office explains, "I have been involved with food banks for many years as a volunteer and most recently as a Board Member at the North Texas Food Bank. Closing the hunger gap is within our reach, and it's extremely rewarding to be part of both FedEx and the North Texas Food Bank, as both organizations are committed to making a difference to end hunger."
The FedEx Office Headquarters team is all in when it comes to supporting the NTFB. Between in-person and virtual volunteering, FedEx Office team members contribute thousands of volunteer hours each year, lending a hand for those in need.
The NTFB's commitment to end food insecurity in North Texas is making a large impact, and FedEx is honored to assist in helping the local community.
*** Images at the top of the page and the infographic are published with permission of North Texas Food Bank