Whether it's responding to disasters, performing community outreach, or serving at special events, The Salvation Army is "dedicated to doing the most good" in the areas they serve. FedEx has donated more than 20 canteen trucks to the nonprofit. These canteens increase their capacity to serve at events which include wildfires, building fires, parades, back to school, and homeless feeding programs. Due to this collaboration, The Salvation Army was able to better serve communities across the United States and around the world.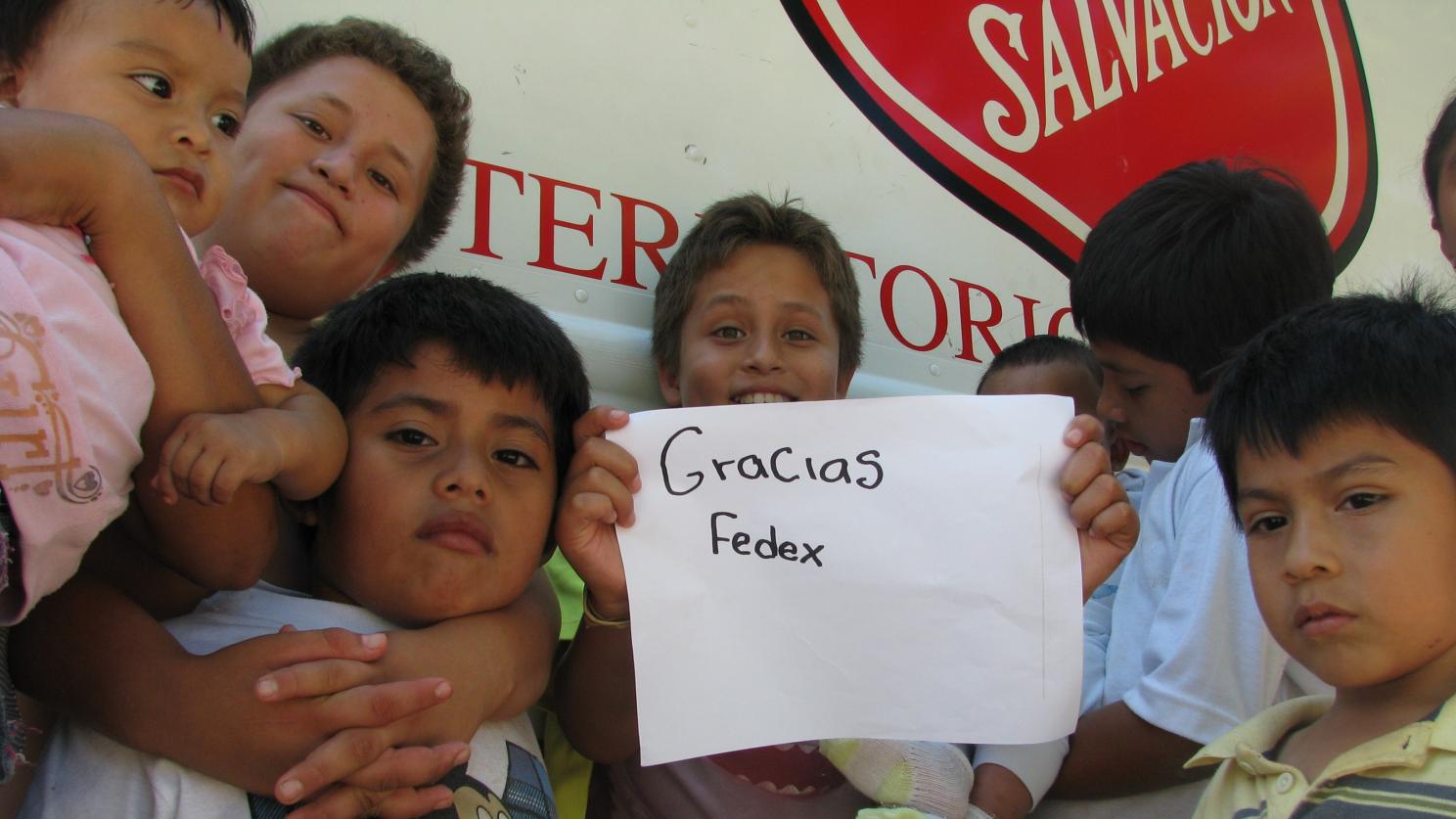 DISASTER RESPONSE:
Greenwood Park Mall Shooting: A report of an active shooter in Greenwood, Indiana was received by the local unit. Due to a standing agreement with the Indiana Fire Department, The Salvation Army was requested to support and serve first responders. Disaster workers deployed with the FedEx canteen, and served 80 meals, 86 snacks, and 194 drinks during the operation.
Thermal, California Water Distribution: An Emergency Drinking Water Order has been in effect for the Oasis Mobile Home Park on the Torres Martinez Tribe's lands since August 2019. The current drinking water system (accessed by 1,100+ residents) uses groundwater that has naturally occurring arsenic. In collaboration with County of Riverside Emergency Management Department, Training Occupational Development Education Communities (TODEC) Legal Center, and The Church of Jesus Christ of Latter-day Saints, The Salvation Army distributed 1,295 cases of water to provide a safe drinking water solution.
Building Fires: Emergency Disaster Services (EDS) supported twenty-six (26) fire responses in Pennsylvania. These fires ranged from a 44-unit apartment building fire to a fire at an automotive shop. During each response, snacks, drinks, and Emotional and Spiritual Care (ESC) was provided to first responders and survivors.
Fairview Wildfire in California: The Fairview Wildfire started in Riverside County on September 5th. It burned thousands of acres near the community of Hemet and then moved rapidly towards Temecula, forcing many to evacuate their homes. Emergency shelters were opened in Temecula and Riverside County, where Salvation Army provided meals, drinks, and snacks. Luckily, the fire was stopped prior to reaching Temecula, and the evacuees could return to their homes.
COMMUNITY OUTREACH:
Back to School Events: The Salvation Army participated in three (3) Back to School events in Golden, Evergreen, and Canyon City, Colorado. These events provide low-income students with backpacks and vital school supplies to ensure they are prepared for the upcoming school year.
National Night Out: National Night Out in Riverhead, New York, is organized by the Suffolk County Sheriff's office, to bring organizations together and share resources to the local community. Through this event, Salvation Army showcased the FedEx canteen and discussed vital services to many individuals and organizations. It also offered an opportunity to engage with new stakeholders, collaborate on future services and improve current partnerships.
Services for Fallen Officer Noal Shahnavaz: Officer Noah Shahnavaz was killed in the line of duty on Sunday, July 31st, 2022. Salvation Army had the honor of supporting Officer Shahnavaz's funeral visitation and interment, alongside the State of Indiana Crises Response and Line of Duty Death Team. Donated Gatorade and water from Kroger were served from the FedEx canteen. Additionally, ESC was provided prior to and after the service.
HOMELESS FEEDING AND OUTREACH:
Memphis, Tennessee Homeless Community Feeding: The Memphis, Tennessee Corps provides meals throughout the year to individuals experiencing homelessness. This program has been successful with the use of the FedEx canteen that makes multiple stops where homeless individuals tend to stay. In addition to passing out lunches and water, referrals and informational pamphlets for other services are handed out and explained. During the third quarter, five (5) individuals asked to enter a treatment program at the Adult Rehabilitation Center (ARC), and two (2) women were transported to our shelter programs.
San Francisco Culinary Arts Training Program (CATP):   The newly created CATP (soon to be certified) began in September to teach students how to prepare a wide variety of foods throughout the week. These meals are packaged up and are then delivered by the students to the homeless encampments in the area with the FedEx Canteen. 
This program is an exciting way to serve the community. Not only does it provide nutritious meals to the homeless population, but it is also giving students (who are not too far removed from life on the street) a valuable skill in cooking, while enforcing the importance of serving others.  Over 200 meals have been served since the start of the program.
SPECIAL EVENTS:
Flight 93 Memorial Services: Salvation Army was invited to participate in an event recognizing the anniversary of 9/11/01 in Shanksville, Pennsylvania, Flight 93 National Memorial. For the 2nd year in a row, snacks and cold drinks were served to the public and staff. Additionally, the local unit provided ponchos and hand warmers due to the inclement weather.
Air & Water Show: The City of Chicago, and Department of Cultural Affairs and Special Events (DCASE) organized the 2022 Chicago Air and Water Show, August 20th and 21st.  Alongside the FedEx Canteen, Salvation Army provided meals, drinks, and snacks to attendees throughout the two-day event, which included military, civilian performers and ariel demonstrations.
RESULTS/OUTCOMES:
Total Number of meals served: 20,312
Total Number of snacks served: 21,677
Total Number of drinks served: 30,560
Total Number rain ponchos distributed: 300
Total Number hygiene kits distributed: 1,839
Total Number food boxes distributed: 198
Total Number face masks distributed: 3,241
Total Number handwarmers distributed: 154
Total Number of toys distributed: 25
Total Number cases of water distributed: 2,129
Total Number backpacks with school supplies distributed: 579
New Jersey
Salvation Army volunteers were recognized as the 2022 honorees, New Jersey State Governor's Jefferson Award. Honorees of this award have achieved measurable community impact and represent outstanding acts of public service. 
The Salvation Army Trenton Citadel Corps' mobile canteen truck has become a symbol of hope and comfort for so many in need. Every Friday, the canteen distributes meals, beverages, clothing, hygiene kits and other supplies at multiple stops throughout Trenton. The team has already served more than 8,300 meals in 2022.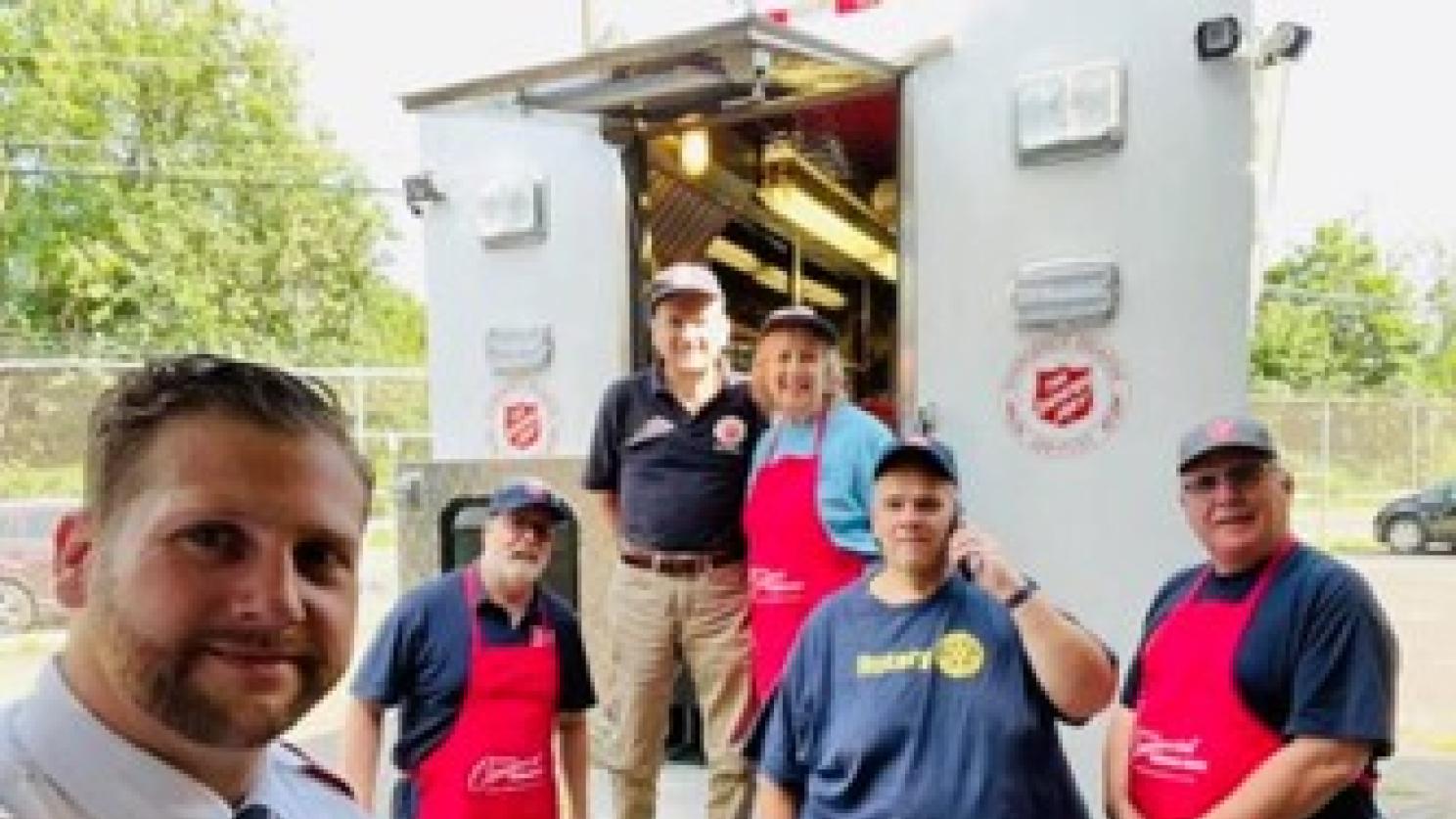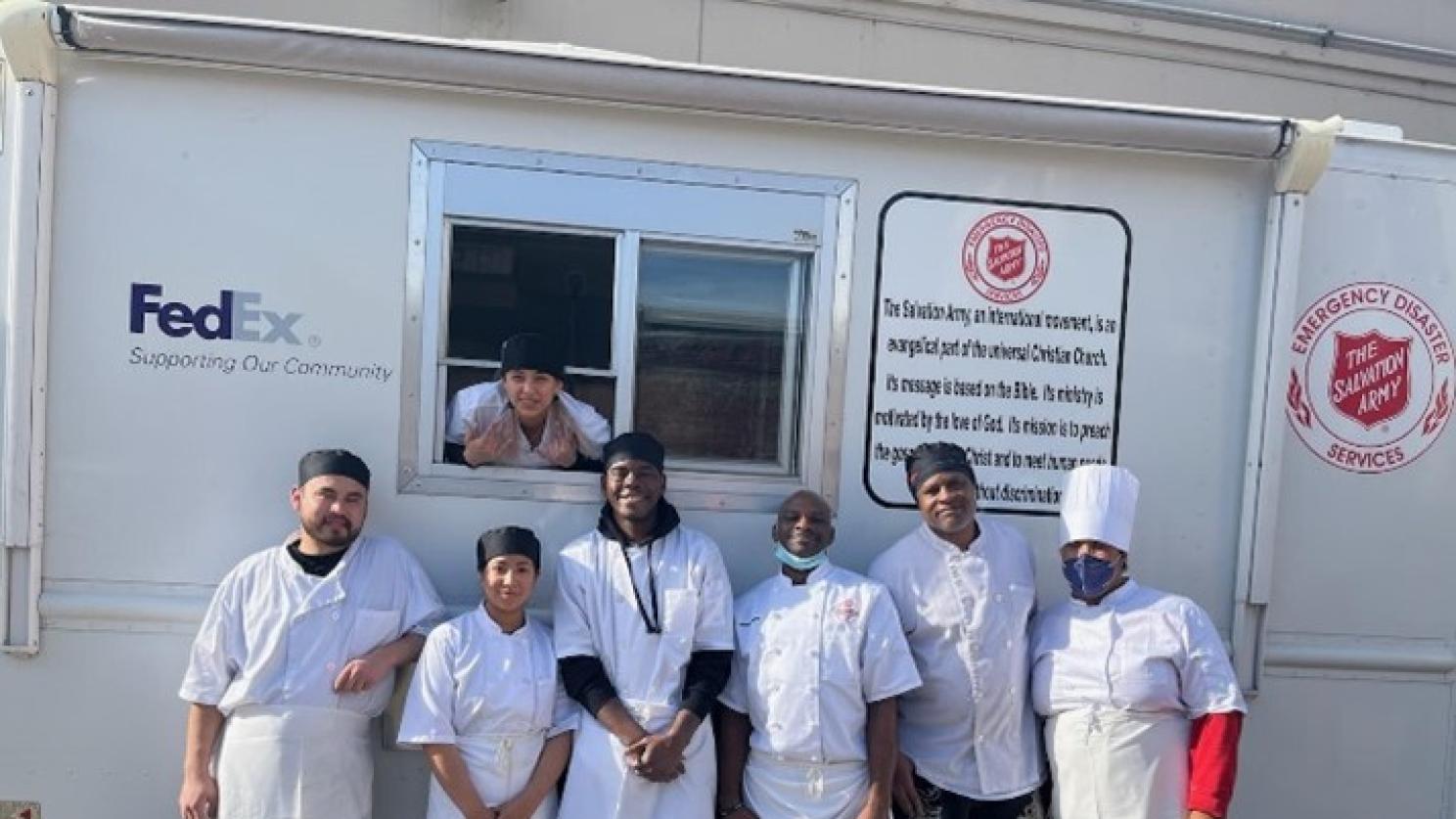 California
Staff and volunteers Staff and volunteers distributed cases of water on September 1st and 6th. This was done in collaboration with County of Riverside Emergency Management Department., TODEC Legal Center, and The Church of Jesus Christ of Latter-day Saints.
The newly created CATP began in September to teach students how to prepare a wide variety of foods throughout the week. These meals are packaged up, and each Friday which are then delivered by the students to the homeless encampments in the area with the FedEx Canteen.
Indiana
Drinks and snacks being provided for the internment ceremony of Richmond Police Department K-9 Officer Seara Burton.
The FedEx Canteen serving the Veterans Homeless Stand Down event to provide drinks, snacks, and meals to veterans.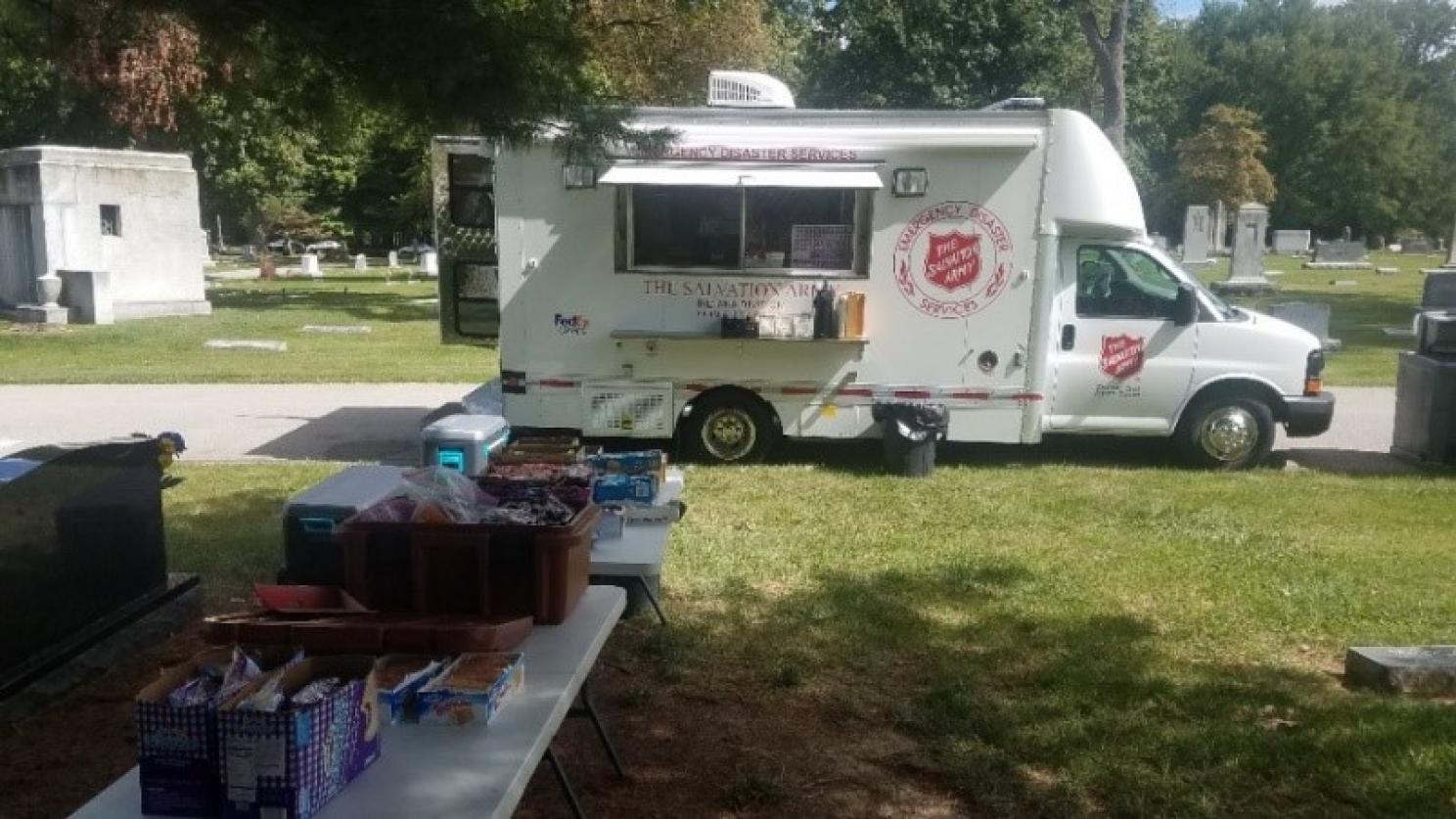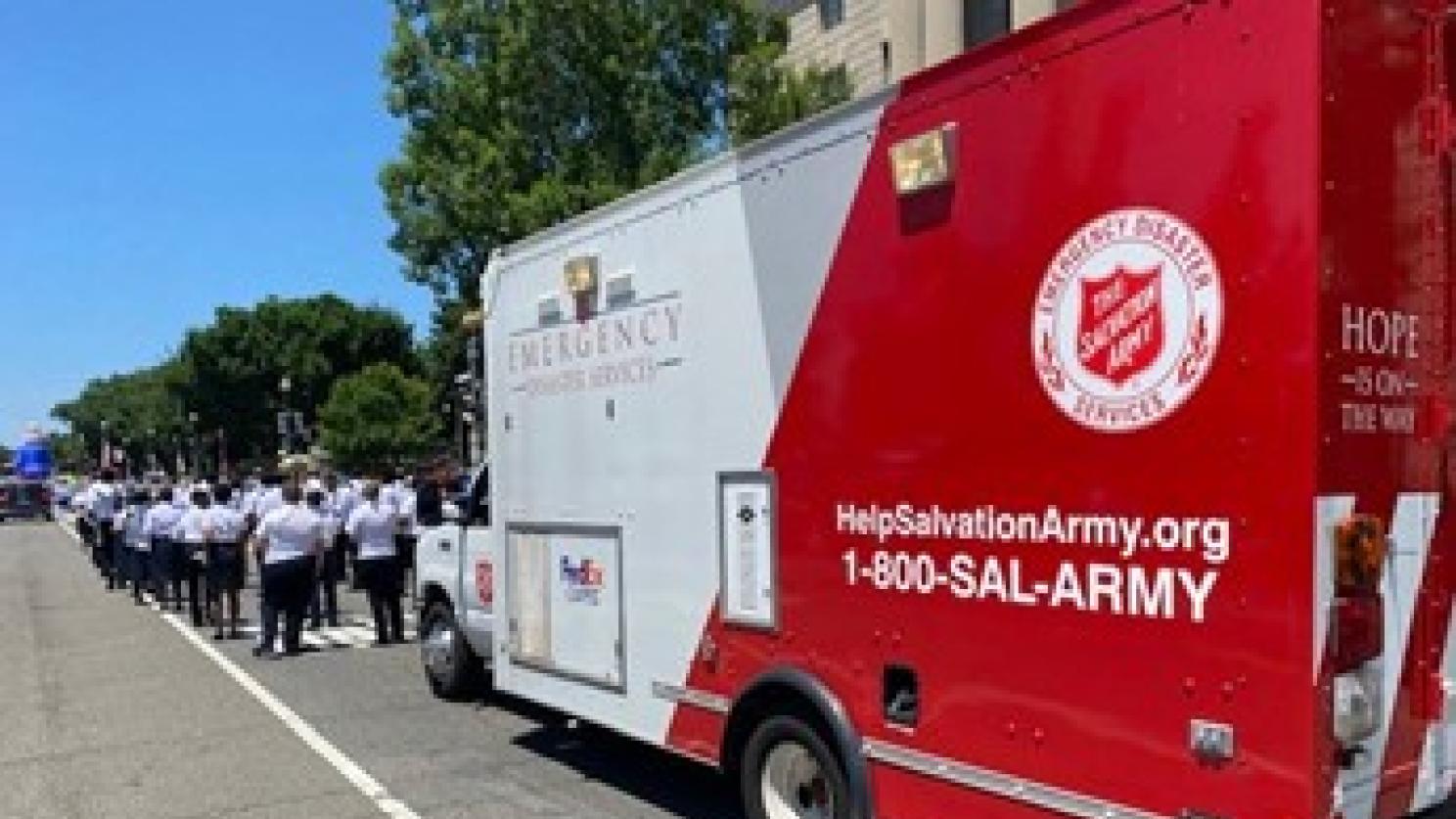 Washington, D.C.
The 4th of July Parade where The Salvation Army Summer Conservatory Band marched alongside the FedEx Canteen. After the completion of the parade route, lunch was served to the band's participants.