How the tools of relief get into a disaster zone—and into volunteers' hands.
By Julie H. Case, Team Rubicon
Since 1980, the U.S. has averaged 7.7 weather- or climate-related events with losses exceeding $1 billion dollars annually. In 2022, that number has already nearly doubled to 15 and includes one drought, one flooding event, and one wildfire event; two tropical cyclones; and 10 severe storms. For disaster relief nonprofits such as Team Rubicon, that also means an ever-increasing amount of gear and supplies have to be delivered to those disaster zones in the days and weeks after the crisis.
To get everything from bottled water and chainsaws into Puerto Rico after a hurricane, to Kentucky after tornadoes or flooding, or even to Alaska for a training event, Team Rubicon's logistics team turns to FedEx.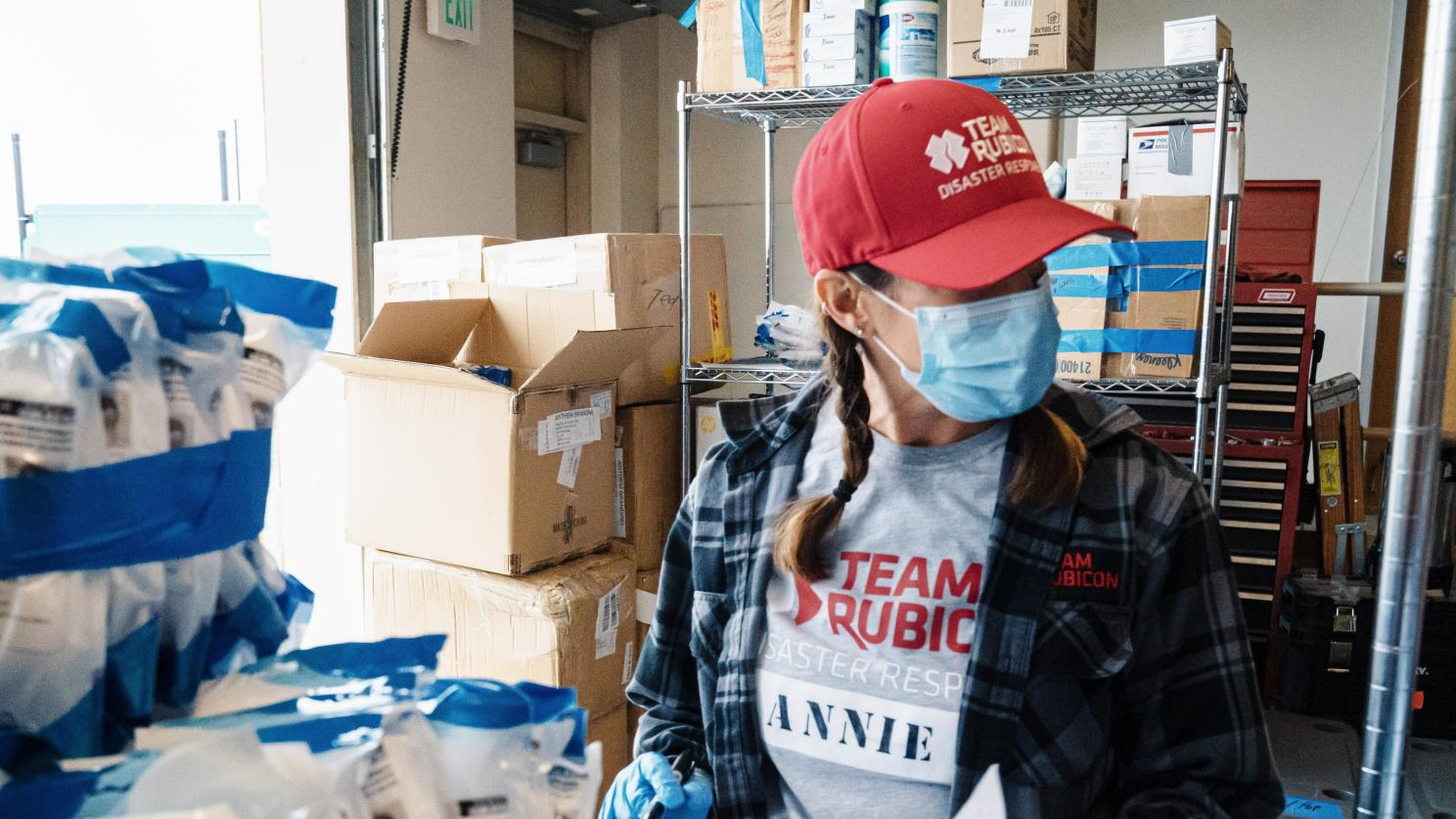 "In the case of our response to Hurricane Ian, down in Florida, we used FedEx services to get pallets of water shipped," says Senior Associate of Operational Logistics at Team Rubicon, Cal Verdin. While some might think there's plenty of water to go around in the Sunshine State, potable water can be at a premium in the days after a disaster. With palettes of donated bottled water staged in the Dallas–Fort Worth area, shipping water to a disaster zone for use by volunteers while serving is often the right solution—it lessens the impact on the local community.
"Then, whatever bottled water or whatever potable water is there for those cities that we're serving stays there for them to use. And we are taking care of our own folks," says Verdin.
Heather Holder, a senior communications specialist within FedEx's global citizenship team, manages FedEx's charitable shipping program for disaster and non-disaster-related shipments, ensuring roughly 50 nonprofits understand the shipping services and solutions available to them and helping those NGOs make many shipments happen.
Given that most disasters tend to leave debris across roads that makes them impassable and take out power grids for days and weeks, getting a pallet full of water or chainsaws into a disaster zone so that relief volunteers can get to work can be difficult. But that is where FedEx can step in to help with its logistics expertise explains Holder.
"The nice thing is that, being FedEx, we have a very vast network. We have a lot of stations in a lot of different areas," says Holder. So, as a disaster like Hurricane Ian approaches and in the hours after, FedEx teams are meeting internally to evaluate what stations might be or are affected and what employees are affected in that area, and the operations team uses that intel to understand how operations in the area are going to be affected.
"As they're working through that information, they're relaying it over to me, knowing that we've got humanitarian workers, like Team Rubicon, who are going to want to respond as soon as possible," says Holder. Then the FedEx teams figure out if something can ship-direct to an address or what it will take for FedEx to get those humanitarian aid supplies into that disaster zone.
Even when not shipping to a disaster zone, FedEx makes it possible for Team Rubicon to get unusual equipment to often austere environments. Take this past summer when a half dozen volunteers—known as Greyshirts—descended upon Juneau, AK, for a weeklong Core Operations Training class that would have them both learning disaster relief skills and making usable timber for a local mill operator.
"When the initial plan—to take a trailer through Canada—had to be scrapped, FedEx came to the rescue, shipping the needed materials from Anchorage to Juneau and back," explains Team Rubicon Operations Support Associate Ben Sullivan. "Juneau is not on the road system, so the only alternative would have been either lengthy shipping by sea or taking an equipment trailer through Canada and then on a two-day trip by ferry."
Instead of going one by land and two by sea, Team Rubicon was able to ship materials via FedEx directly to Juneau. This included four individual chainsaw kits—each including a husky box with a saw, PPE, and maintenance equipment—the materials for the Core Ops Class, and the administrative items necessary to complete the weeklong training. 
Chainsaws may seem like an unusual thing to ship via FedEx, but it's not the most unusual thing Holder can think of sending into a disaster zone. That one was in August of 2021, when FedEx sent two charter flights to Haiti for relief efforts in the wake of the devastating 7.2. magnitude earthquake. The second of those flights included an emergency field hospital—a self-sufficient outpatient health facility operated by International Medical Corps that has everything necessary to provide a wide range of medical services for up to three months.
"I just think that was pretty wild," says Holder of that lifesaving mission. "It was a really cool shipment to support…delivering a field hospital, which served over 100 people per day."
***Photo credit Team Rubicon