FedEx enters year two of its five-year commitment to help students at HBCUs prepare for the workforce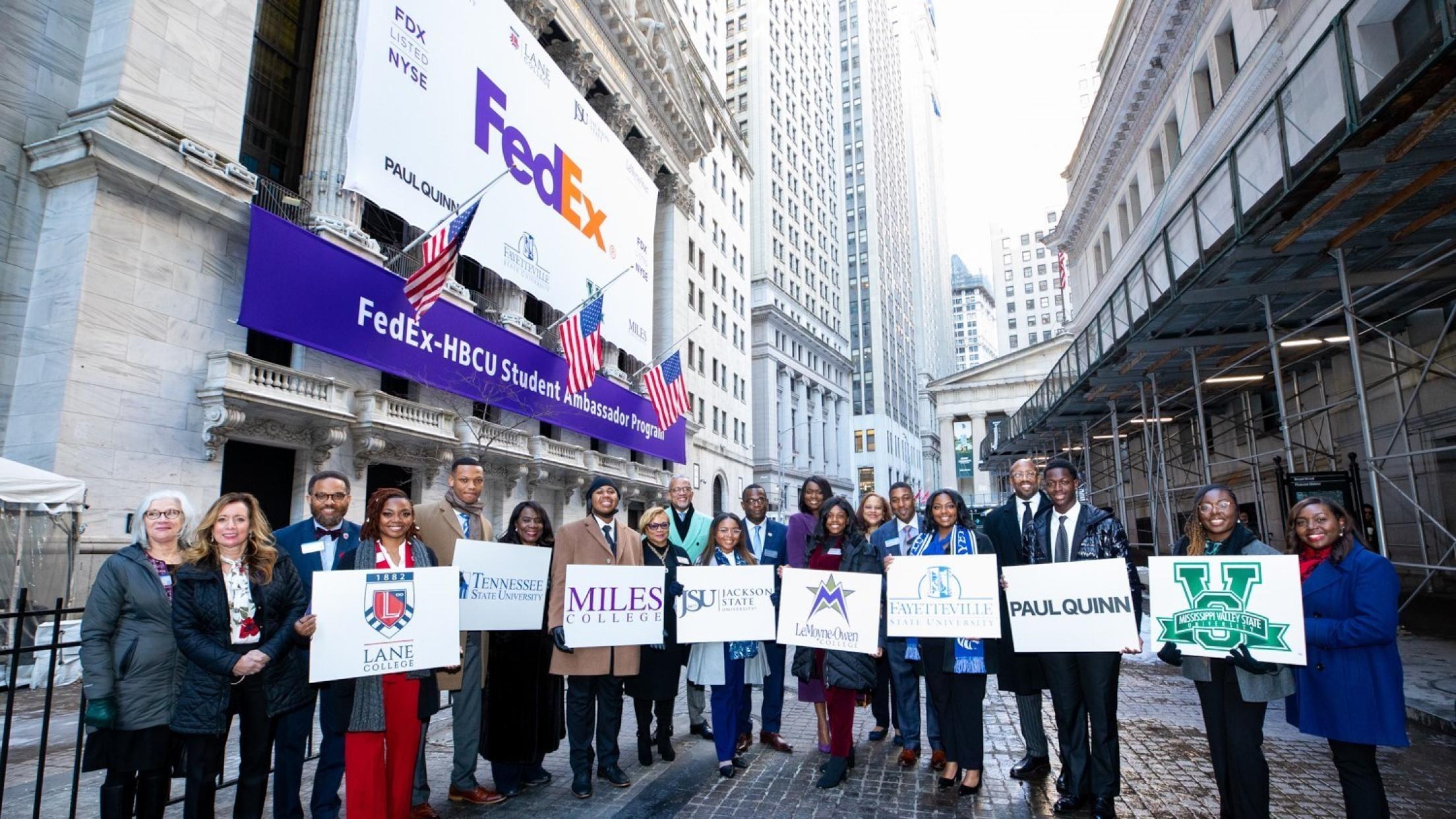 MEMPHIS, Tenn. Feb. 14, 2023 – Today, FedEx (NYSE: FDX), the world's largest express transportation company, announced the second cohort of the FedEx-HBCU Student Ambassador Program. As part of the five-year commitment to Historically Black Colleges and Universities (HBCUs) announced in 2021, this program helps prepare HBCU students with opportunities to learn about the FedEx enterprise from executives, build leadership and career-ready skills, and participate in unique experiences, while also helping expand the company's pipeline for diverse talent.
New student participants were selected from the following eight HBCUs, which are regionally located within a short distance of a FedEx operating or distribution facility. The proximity allows students from within the community better opportunities to engage with FedEx team members and learn about the business.
Jackson State University (Jackson, Miss.)
Tennessee State University (Nashville, Tenn.)
LeMoyne-Owen College (Memphis, Tenn.)
Mississippi Valley State University (Itta Bena, Miss.)
Lane College (Jackson, Tenn.)
Paul Quinn College (Dallas, TX.)
Miles College (Fairfield, Ala.)
Fayetteville State University (Fayetteville, N.C.)
The second cohort will kick off later this month with a career exposure and leadership day involving FedEx leadership. Additionally, the cohort will participate in experiences throughout the year to help prepare them for entry into the workforce, including sessions on interview training, mock interviews, and resume development.
Freshman, sophomore and junior students were selected to participate based on good academic standing and career tracks aligned with FedEx career tracks such as: business, sales, IT/tech, logistics, marketing communications, accounting, and more. This year also comes with new on-the-job learning and mentorship experiences for the ambassadors.
"Through the second cohort of the FedEx-HBCU Student Ambassador Program, we're preparing future leaders and the next generation for the workforce through tailored, hands-on programming," said Jenny Robertson, Senior Vice President of Integrated Marketing and Communications. "FedEx is proud to strengthen our ties with HBCUs across the country and provide students with the tools and resources to pursue fulfilling careers. Initiatives like this are important to building a diverse talent pipeline within FedEx."
The initial announcement took place last year at the New York Stock Exchange on the first day of Black History Month, February 1, 2022, with HBCU students, presidents, and FedEx executives in attendance to commemorate the occasion. Sixteen students from eight HBCUs participated in empowering and educational sessions with company leaders and were offered several practical experiences, including:
A welcome from Frederick W. Smith, FedEx Corporation Founder and Executive Chairman of the Board of Directors to kick off the program.
The opportunity to participate in interview training and mock interview sessions with FedEx leaders, and a resume development discussion with an Executive Coach.
FedEx Operating Companies created a series of career-focused programs, including:

The "Career Expose" where FedEx Ground leaders connected with students about transitioning from college to professional life, resume writing, career tips and a "day in the life" in Safety, Engineering, Finance, Human Resources, Logistics/Supply Chain, and Operations; and
The FedEx Freight Boardroom Experience, where students were introduced to career possibilities within FedEx through a simulated boardroom meeting.
To learn more about how FedEx supports HBCUs and to hear testimonials from the student ambassadors about their experience, please visit FedExCares.com and view the HBCU Fact Sheet.
About FedEx Corp.
FedEx Corp. (NYSE: FDX) provides customers and businesses worldwide with a broad portfolio of transportation, e-commerce and business services. With annual revenue of $94 billion, the company offers integrated business solutions through operating companies competing collectively, operating collaboratively and innovating digitally under the respected FedEx brand. Consistently ranked among the world's most admired and trusted employers, FedEx inspires its more than 550,000 employees to remain focused on safety, the highest ethical and professional standards and the needs of their customers and communities. FedEx is committed to connecting people and possibilities around the world responsibly and resourcefully, with a goal to achieve carbon-neutral operations by 2040. To learn more, please visit fedex.com/about.