Just as we pride ourselves on being a diverse and inclusive company, FedEx also supports organizations that accelerate acceptance in our communities. One of the organizations we have supported since 2017 is the Matthew Shepard Foundation. Founded nearly 25 years ago by Judy and Dennis Shepard, the organization strives to inspire individuals, organizations, and communities to embrace the dignity and equality of all people.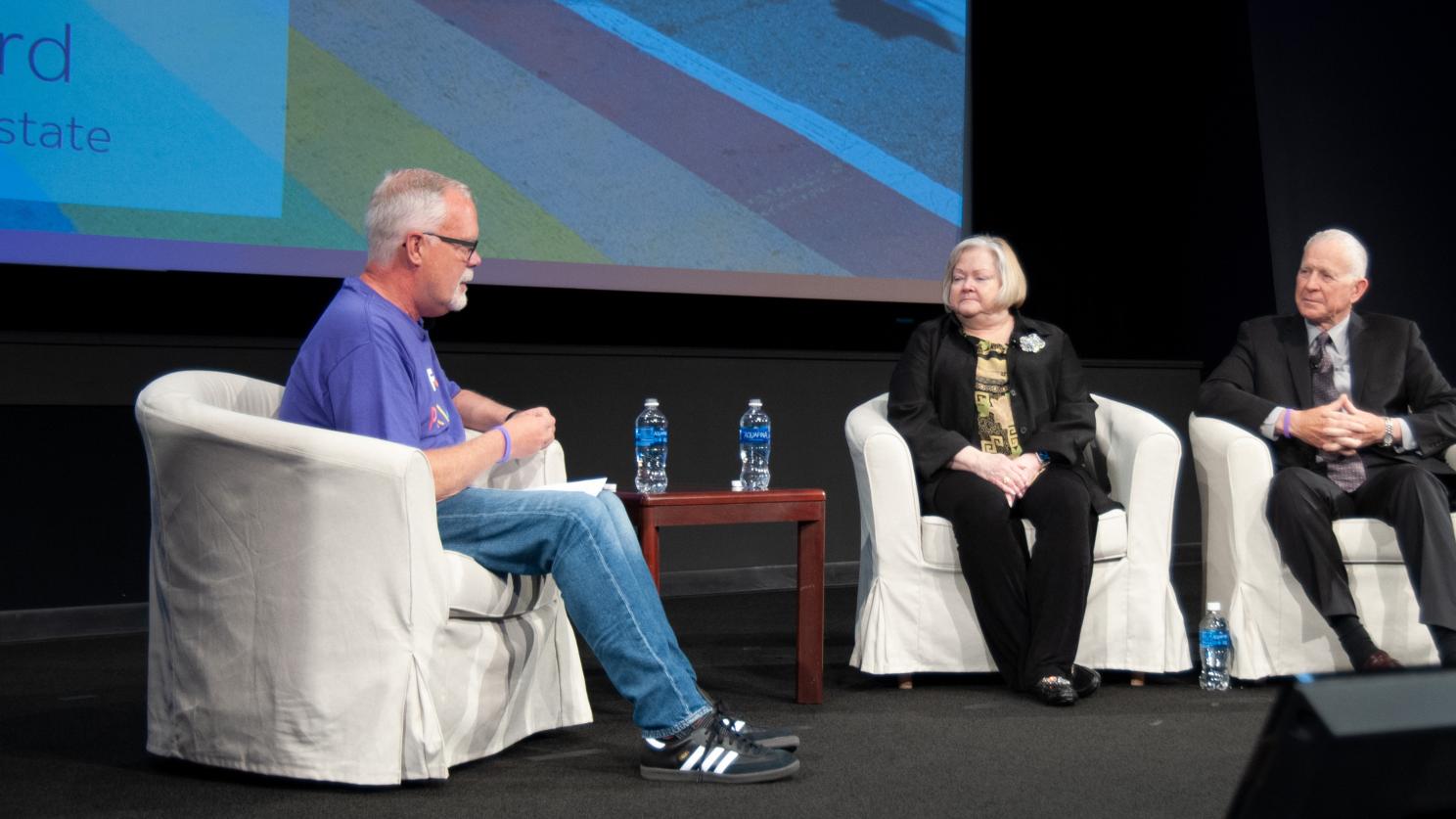 In the years since his tragic death, Matthew Shepard has become a symbol of empathy and an iconic figure in the LGBTQ+ community. To his parents Judy and Dennis Shepard, he was simply their son, Matt. They shared their memories of their beloved son and the work of the Foundation they created on his behalf at an event at FedEx World Headquarters on June 2, 2023, hosted by the FedEx Express LGBT & Friends Network.
"We're all an 'other' to somebody," said Judy Shepard. "People around the world are victimized for different reasons – our hope is to inspire individuals, organizations, and communities to embrace the dignity and equality of every individual and community."
Judy and Dennis shared memories of their son, Matt, born on December 1, 1976. "He loved people and wanted everyone to be his friend," said his father. As someone with a lot of empathy, "He knew how easy it is to hurt someone and not realize it," said Judy. Unfortunately, Matt's small stature (5'2" and 105 pounds) often resulted in him being teased and bullied.
Matt attended high school at a boarding school in Switzerland, as there were no private schools for Westerners in Saudi Arabia where Dennis worked as a safety consultant for Aramco and where the family made their home. In Switzerland, Matt made countless friends among the students, continued his interest in theater, and had dreams of working overseas for the U.S. State Department.
After graduating from high school in 1995, Matt returned to the U.S. to attend college in North Carolina where he had his first encounters with racism and hate. His father shared how Matt, "Had a great passion for equality and always stood up for the acceptance of people's differences." After time living in Denver, he enrolled in the University of Wyoming in Laramie where he was a political science major. Judy said how Wyoming was a shock for Matt as, "Wyoming is not diverse."
On the night of October 6, 1998, everything changed. Matt was at a bar in Laramie where two men in their early 20s offered him a ride home. Instead, they drove him to a remote rural area where they proceeded to rob and torture Matt, tying him to a buck-rail fence and leaving him to die. He was discovered by a cyclist 18 hours later who first thought he had happened upon a scarecrow bound to a fence. He was transported to the hospital in Laramie and then quickly to the more advanced trauma ward in Fort Collins, Colorado.
The Shepards were 8,000 miles away when they received the call about Matt's condition and within 36 hours were by his side in the hospital. His face was fully bandaged with multiple skull fractures and lacerations. Outside the room of the hospital, there were vigils and a media frenzy. The Internet had just begun to take hold, so news of what happened to Matt spread quickly around the world.
Matt Shepard would never regain consciousness. He died shortly after midnight on October 12, 1998. He was 21.
"Twenty-five years brings the realization that we've been without him longer than we were with him, which is hard," said Judy to the FedEx audience. "Matt was murdered as a young gay man."
On what would have been his 22nd birthday (December 1st, 1998), Judy and Dennis started the Matthew Shepard Foundation. The family had received donations from around the world, so they decided to start the Foundation with a mission to stop mindless hatred against all marginalized people. Dennis had to return to Saudi Arabia, leaving Judy (an introvert) to lead the Foundation.
Overnight, Judy became a gay rights activist, advocate, and speaker on issues related to gay youth. One of Shepard's greatest accomplishments was helping lobby Congress for the Matthew Shepard and James Byrd Jr. Hate Crimes Prevention Act, passed on a bipartisan vote in 2009 and signed into law by President Obama. The bill provides federal funding and technical assistance to state, local, and tribal jurisdictions to help them more effectively investigate and prosecute hate crimes.
The story of the Foundation and Matthew's legacy continues today. The Laramie Project was written and has been staged in hundreds of communities around the world. Judy wrote The Meaning of Matthew: My Son's Murder in Laramie, and a World Transformed in 2009, sharing about their loss, memories of Matt, and the tragic event that changed their lives and the nation. Other legacy works include:
Matt Shepard is a Friend of Mine, an Emmy Award-winning documentary film
Considering Matthew Shepard, a sweeping mix-ed voice choral work
October Mourning: A Song for Matthew Shepard, a book of 68 imaginative poems
Matt's ashes were interred at Washington's National Cathedral in 2018, 20 years following his death. It was the first interment of ashes of a national figure since Helen Keller in 1968.
Judy and Dennis thanked FedEx for its support and praised the work of companies who support LGBTQ+ team members. "Corporations are at the forefront of leading change and promoting equality," said Dennis. They encouraged members to learn more about the Foundation's work and to continue to advocate for equal rights for all people.
Judy closed by saying, "The lesson we continue to learn is that we can't take anything for granted."
Judy and Dennis Shepard were featured guests at the Memphis Pride Parade on June 3, riding along Beale Street with many FedEx team members from the various LGBTQ+ business resource teams across the enterprise.