FedEx donates trucks to The Salvation Army for emergency response
From raging wildfires to monstrous hurricanes, emergency situations seem to unfold right after another. But one covert operation has continued to offer hope and relief to individuals and families: a fleet of custom, built-to-order mobile emergency response vehicles (nicknamed "canteen trucks"). Donated by FedEx and operated by The Salvation Army, these inconspicuous trucks – ranging in sizes from sprinter vans to RVs – and a group of volunteers show up to numerous emergency situations to hydrate, feed and extend a listening ear to those who've experienced trauma, loss or hardship.
Since 2007, FedEx has helped The Salvation Army increase its capacity to provide disaster relief by donating over 21 emergency response vehicles. Stationed around the world from Pennsylvania to Sao Paulo, these nimble trucks have helped The Salvation Army workers better navigate hazardous areas and crowded city streets without sacrificing the ability to serve thousands of people a day. In many cases, the trucks have fully integrated with other local services and are now fixtures within the community – and over the past year, these emergency response vehicles have played a pivotal role in providing food and essential supplies to families in need during the pandemic. In Trenton, New Jersey, the FedEx canteen has played a dual role, serving in community need-based capacities as well as in disaster relief services. Trenton's truck was deployed alongside others in response to Hurricane Ida,  providing more than 462,000 meals, 228,000 drinks, and 145,000 snacks, and emotional and spiritual care to 27,478 people.
"We're proud to be able to contribute these emergency response vehicles as part of our work with The Salvation Army," said Lisa Menuskin, Manager, Global Brand Citizenship at FedEx. "The positive impact that is enabled by these vehicles and The Salvation Army cannot be understated, whether it's serving the local community or responding to natural disaster."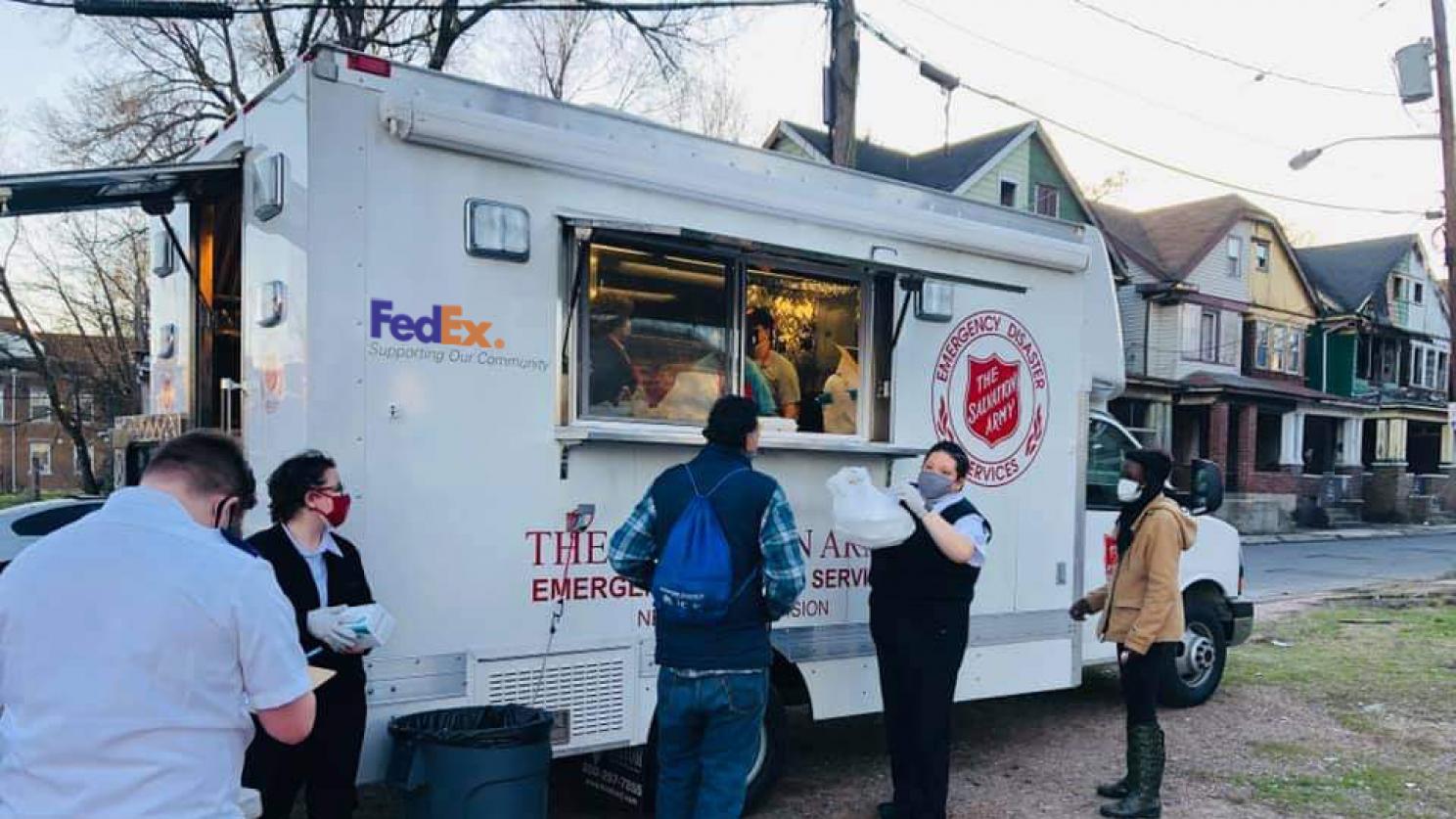 Mobilizing Canteen Trucks to Provide Needed Supplies During the Pandemic 
Though these vehicles were designed primarily for emergency situations, no need is too small. In Trenton, Salvation Army teams have utilized the trucks to serve countless other community projects, ensuring as many individuals receive the assistance they require as possible, one mile at a time.
In 2019, The Salvation Army in Trenton introduced its mobile canteen truck to help provide hundreds of meals a week to local families in need. Alan Porchetti and Charlie Parkerson, both volunteers with The Salvation Army, support both the canteen, which serves hot meals, and the mobile pantry, which distributes groceries and household goods.
"Charlie drives the canteen and I drive the mobile pantry," Alan Porchetti said "Our two Salvation Army trucks would go around town serving the community. People would know that we would be there in between certain times, so by the time we got there, they'd already be lined up. It's amazing."
However, when the pandemic hit in 2020, the need for the canteen's services surged. In response, the team received a grant from Jersey Cares to distribute weekly meals at four additional locations. With the additional funding, they soon found themselves distributing an average of 200 meals every Friday for a total of 800 meals each month. With this acute rise in need throughout the community, the grant money quickly ran out, and the canteen truck found itself on its last legs.
"We met someone at The Salvation Army that used to work with headquarters and said, 'We really need help with our canteen truck, we want to be able to serve our communities,'" Porchetti said. "Two months later we got a call: 'I have good news for you – I have a canteen for you guys.' And so it was the FedEx canteen we got, and we were blessed."
In addition to donating a new canteen truck to The Salvation Army of Trenton, FedEx stepped in to provide an $11,000 grant, to help ensure continuous service to the community during COVID-19 and beyond. The canteen truck hit the Trenton streets in December 2020 and has since served thousands of meals and distributed personal hygiene items and weatherized supplies to housing insecure and homeless individuals.
With research showing that one in four Americans faced food insecurity during the onset of the pandemic, this effort is just one of many examples illustrating how The Salvation Army partnered with local foodbanks across the country to serve communities at a critical time.
In Wake of Ida, Canteens Offer Relief and Connection
Seth Ditmer, Director of Emergency Disaster Services in Trenton is thankful the city's canteen truck was regularly used and well-stocked – because when disaster struck, his team of volunteers was ready.
In an already inordinately difficult year, Hurricane Ida wreaked havoc across the northeast in late August. The Category 4 storm was the second-most damaging on record, behind only Hurricane Katrina, and particularly ravaged inland areas that were ill-equipped to deal with forceful hurricanes and tropical storms. The Island neighborhood, surrounded by the Delaware River, bore the brunt of the storm-related flooding in Trenton.
More than 500 households around The Island were evacuated, and many of their properties and belongings were destroyed or damaged. At the local high school where evacuees where gathered, The Salvation Army team of volunteers was able to quickly mobilize the canteen truck and relief supplies. In the days immediately following the storm and for several weeks afterwards, the volunteers served hundreds of residents at the school. Adhering to COVID-19 protocols and health and safety standards made for an additional layer of difficulties.
"The number of people within a shelter who need support changes rapidly," Ditmer said. "With fluctuating numbers of people moving into shelters – but who also want to return to their homes to check in and retrieve belongings – we had to find a way to mitigate coronavirus risks while providing that high level of emotional and spiritual support."
For many volunteers, service provision was the most important part of relief services in wake of Ida.
"We found that while there was less physical contact between volunteers and people served, we were still able to fortify connections – you could definitely feel…see…notice(?) a sense of community and belonging in that school," Ditmer remarked. "After people get a chance to talk through what they've experienced, there's a powerful sense of relief. People were refreshed and renewed after what they'd gone through."