When the pandemic forced cities into lockdown, many individuals with underlying medical conditions struggled to safely receive the routine care needed from hospitals, pharmacies, and other facilities, while doctors found even the healthiest patients were hesitant to seek preventative health services throughout most of 2020. So, with more people homebound, industry leaders began offering more flexible remote and in-home healthcare options for patients out of necessity.
"The pandemic accelerated developments we expected to see in the healthcare space by a few years," said Stephen L. Smith, FedEx Director of Global Healthcare. "The increase in shipping in-home healthcare solutions is a great example of where e-commerce growth and healthcare intersect."
FedEx has been in the healthcare business for decades, but since the start of the pandemic, the company and its charitable arm, FedEx Cares, have leveraged resources and expertise to provide customers and communities with expanded healthcare solutions. In recent months, FedEx has helped nonprofits meet the needs of nearly 2,400 individuals in communities across North America with in-home solutions consistent with its FedEx Cares 50 by 50 campaign.
Shipping medicine directly to vulnerable kids
Like many facilities, The Hospital for Sick Children in Toronto, Ontario, encouraged patients to utilize virtual visits in the early days of COVID-19. But with such a large percentage of care confined to the home for months on end, patients struggled to access the treatments typically received in a hospital setting.
To ensure treatments continued, FedEx Cares worked with the hospital's fundraising arm to facilitate more than 300 in-kind shipments of prescriptions, medications, and medical devices to 74 patients across Ontario, while supporting the organization's advancement into a new frontier of care.
"Even after the worst of COVID-19 has passed, virtual care is here to stay," said Seanna Millar, senior vice president of corporate and community partnerships for SickKids Foundation. "Thanks to the support of FedEx, we can see this will certainly be a major part of the hospital's new strategic plan."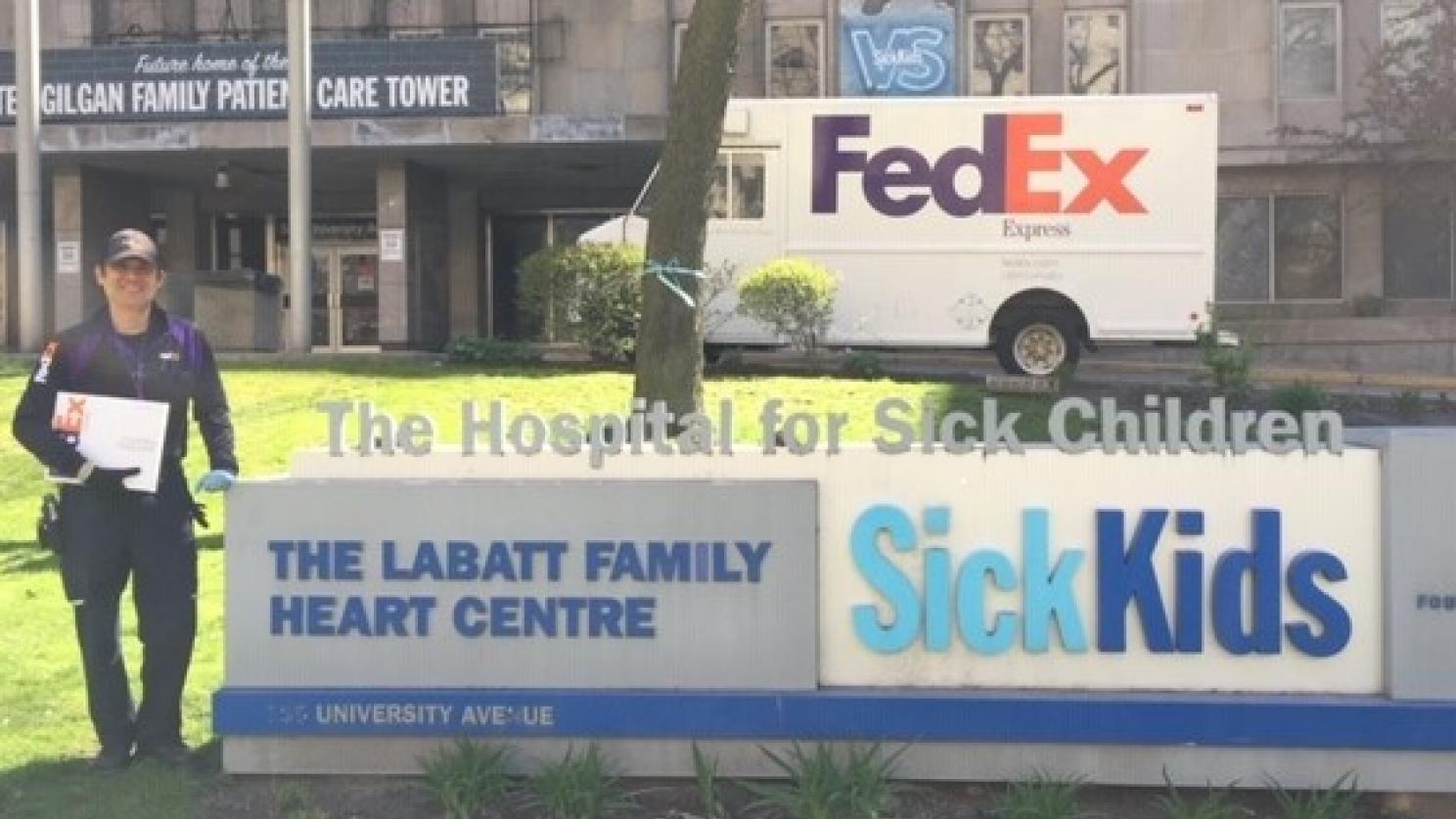 Abelardo (Abel) Villalon, a FedEx courier who delivered critical medical supplies to SickKids patients, feels fortunate to do his part in keeping kids safe and healthy.
Leveraging volunteer expertise for at-home vaccinations
As COVID-19 vaccines became widely available in the U.S. in the spring of 2021, the Memphis Fire Department's (MFD) Healthcare Navigator (HCN) Program collaborated with local organizations to design and implement a process for homebound residents to receive vaccines. "When this project came to me, I knew exactly who to call — the logistics experts in our city: FedEx," said Kevin Spratlin, manager of the HCN program.
Through FedEx Cares' skills-based volunteer program, a group of team members planned efficient routes for vaccine distribution alongside MFD. To help launch the initiative, five volunteers—Tomika Bentley, Jeff McLeod, Jamie Outlaw, Gigi Wolfe, and Reza Ziai — assisted MFD with planning and preparation to help optimize distribution throughout the community. The MFD was able to administer 2,300 doses of the COVID-19 vaccine, while electronically validating addresses to help speed up distribution of the temperature-sensitive vaccines. 
"It's gratifying to know that we can use our expertise to provide easier and faster service to our community," McLeod said. "I had a neighbor around the corner mention that his homebound mother-in-law got her vaccine delivered by MFD the other day—I got a little chuckle out of that because I knew I played a part."