For students in Dallas, starting school in August is a heated affair. With an average high of 97 (August), recess is not an appealing option for recreation. Additionally, Dallas has one of the most challenging urban climates and is ranked eighth worst in the nation for air quality by the American Lung Association.
Yet there is hope, particularly if you attend a Cool School. Started by the Texas Trees Foundation in 2015, the Cool Schools program was designed to connect students and teachers to nature by planting trees and creating fun, engaging outdoor learning areas (think playgrounds of the future). Launched with Dallas ISD, the goal is to increase tree canopy at elementary schools. As of today, nearly 3 out of 4 elementary schools in Dallas have less than 7% tree canopy (a minimum of 27% is recommended to reduce exposure to UV rays and air pollution).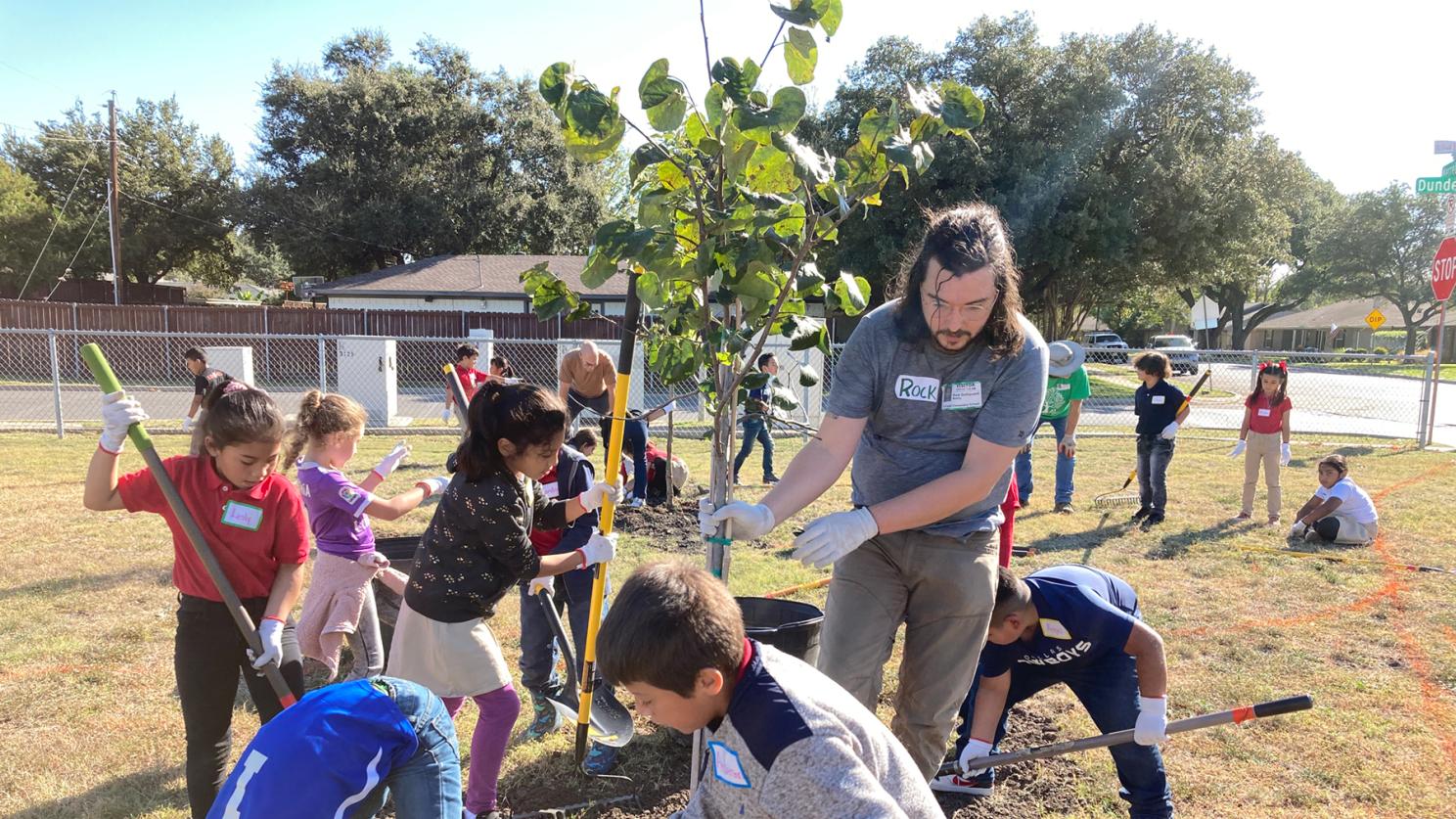 The benefits of trees are endless for students. They receive hands-on learning opportunities with science-based curriculum on nature and trees. Students can spend more time outside, allowing them to pay more attention in class and follow directions. And for building managers, trees can provide up to 15-degrees (F) of cooling on hot, summer days, reducing energy costs by 20% - 30%.
Last fall, three elementary schools in Dallas ISD received grants from One Tree Planted and FedEx to plant over 200 trees across their three campuses. These schools were in areas with a large population of low-income families and challenging air pollution. Over a thousand students and 500 teachers participated in the planting of these trees, providing them with hands-on learning about nature and the environment. As they grow, the trees will shade pathways, promote outdoor recreation, and beautify campuses.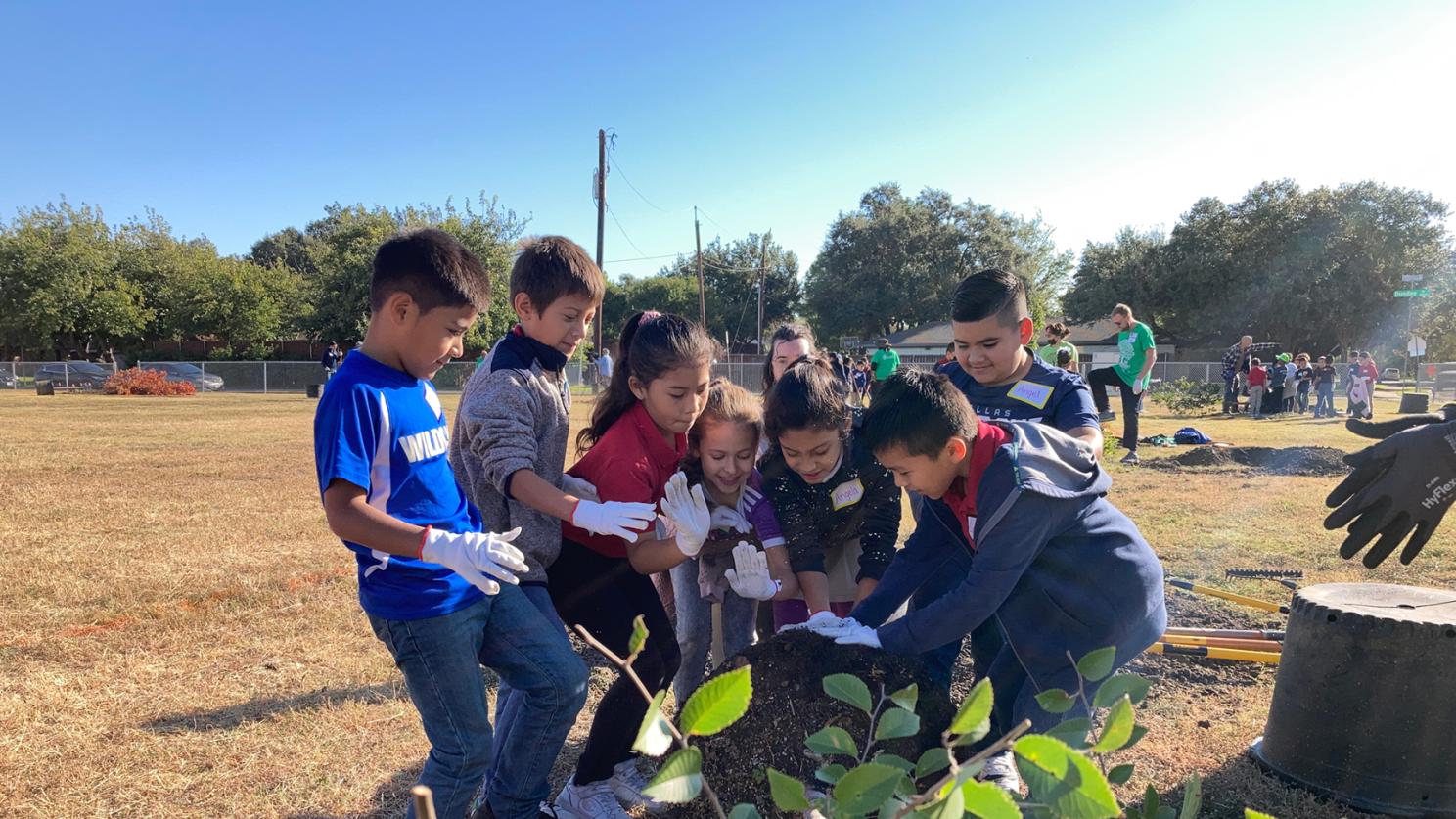 "We are immensely grateful to FedEx and our other funders' support of three Cool Schools in the fall of 2022," states Alex Rea, Grants Coordinator for the Texas Tree Foundation. "The funds allowed us to plant over 200 trees, created outdoor classrooms, revitalized STEM curriculum, and created beautiful outdoor spaces. This generous contribution was put to good use and will impact students for years to come."
This urban forestry project in Dallas is one 27 that One Tree Planted is supporting across the United States as part of their recently launched Urban Forestry Action Fund – a portfolio of high-impact urban forestry projects aimed at planting urban trees to address environmental justice issues such as urban heat, air pollution, and lack of community greenspaces – and ultimately help communities achieve tree equity.
"Planting trees at schools and other community spaces supported by the Urban Forestry Action Fund is a great example of the nature-based solutions needed to address environmental justice issues and help local communities achieve tree equity," said Tanner Haid, Director of Urban Forestry at One Tree Planted. "With support from planting partners like Texas Trees Foundation, and sustainability-minded corporate sponsors like FedEx, we can continue to drive global impact in 2023 and beyond."
Thanks to One Tree Planted and the Texas Trees Foundation for allowing FedEx to deliver some much-needed shade to Dallas students.