In 2022 with support from FedEx, REpowering Schools launched a wind energy research program for college students in engineering programs. The goal was to introduce them to the fundamentals of wind turbine testing, evaluation, and validation through hands-on, experiential learning. The project provided small-scale wind turbines and testing equipment to expand research capabilities at selected schools.
At the culmination of the research project, students were invited to present their findings to industry professionals during the Distributed Wind Energy Association meeting in Washington, DC. Not only did the students learn from each other, but they had an opportunity to network with future employers.
Below are a few of the schools that participated in this program:
Donnelly College – Kansas City, Kansas
Many of Donnelly's minority and first-generation college students lack the foundational math and science skills necessary to complete STEM coursework and pursue STEM careers. To help these students be successful, fourteen Donnelly STEM students engaged in renewable energy research through FedEx's Small Wind Turbine research project in the spring of 2023. Students learned how wind turbines work to generate electricity and then helped assemble a turbine.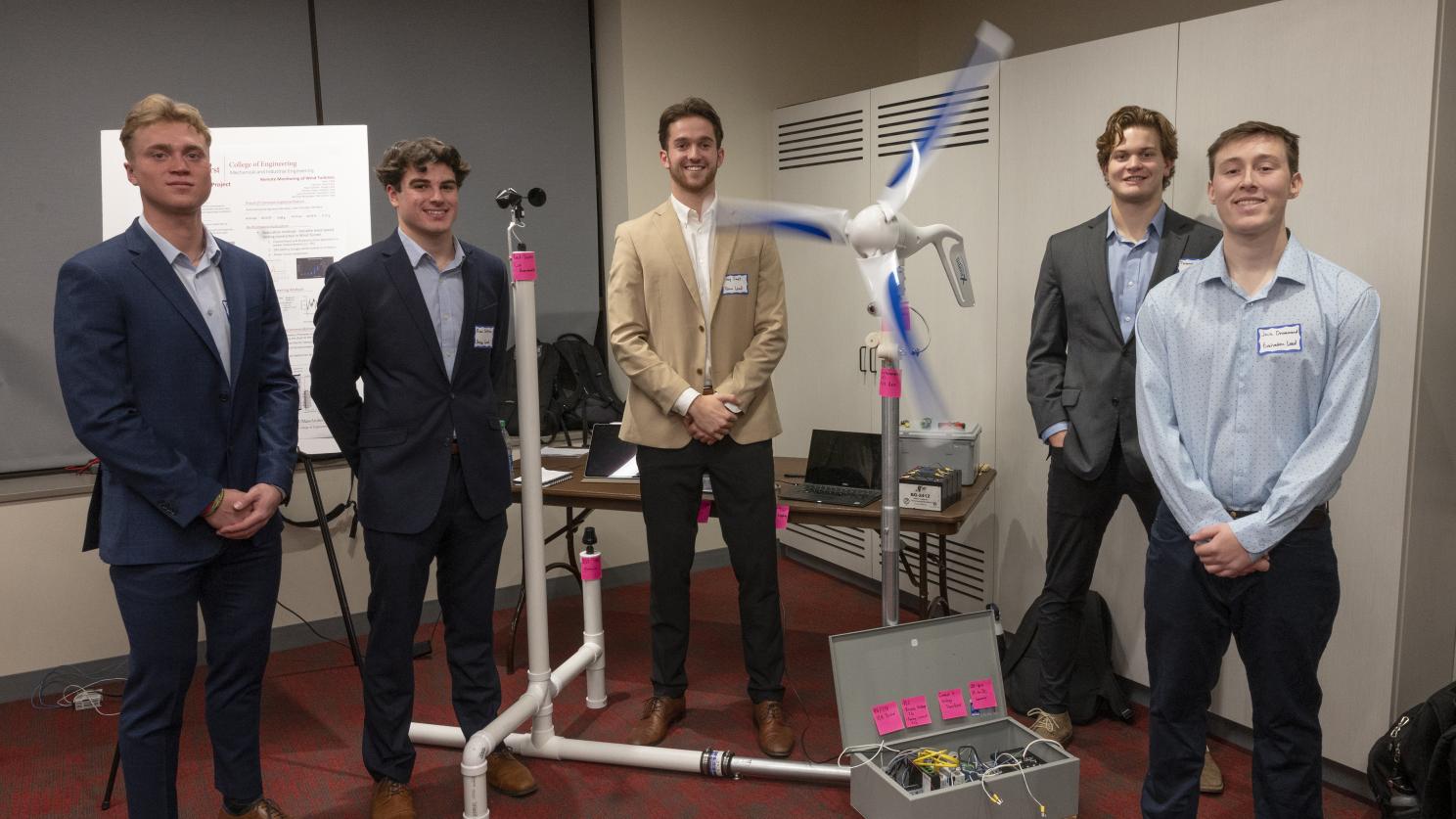 During the semester, students used a PASCO wind station to monitor variables such as wind direction, speed, humidity, barometric pressure, power (kilowatts), voltage and amperes. To create community awareness about wind turbines, Donnelly College hosted 50 fifth grade students from Banneker elementary school to learn about wind turbines and participate in a wind turbine challenge activity. In the end, not only did the students learn about wind power, but were able to connect physics and engineering to solve real-world problems.
UMass Amherst College – Amherst, Massachusetts
A team of seniors from the College of Engineering completed one of the most complex capstone projects this past year, constructing a remote monitoring system for a wind turbine. These five students created an autonomous data-logging system to remotely monitor, test, and evaluate small-scale turbine performance under various operating conditions. Once completed, they presented their fully functional system at the annual Senior Design Showcase and Competition, winning first place in the winter of 2022. They travelled to the Distributed Wind Conference in Washington, D.C. to present their findings to a national audience and then again at the 2023 Energy Transition Symposium at UMass.
Northern Oklahoma College – Tonkawa, Oklahoma
NOC's Wind and Renewables Division is the newest accredited Wind Energy degree in the state. A n eclectic mix of students, from high school graduates to veterans, were interested in finding new ways to harness energy through wind. When they were presented with the Primus Air Silent X from Repowering Schools, the team immediately broke into groups to design mounts, wiring diagrams, and plans to install the turbine for a local high school. They tested the turbine in high winds, gathering data side-by-side with an anemometer to discover the power potential at certain wind speeds. The highlight of their research was climbing wind turbines with the Global Wind Organization in western Oklahoma.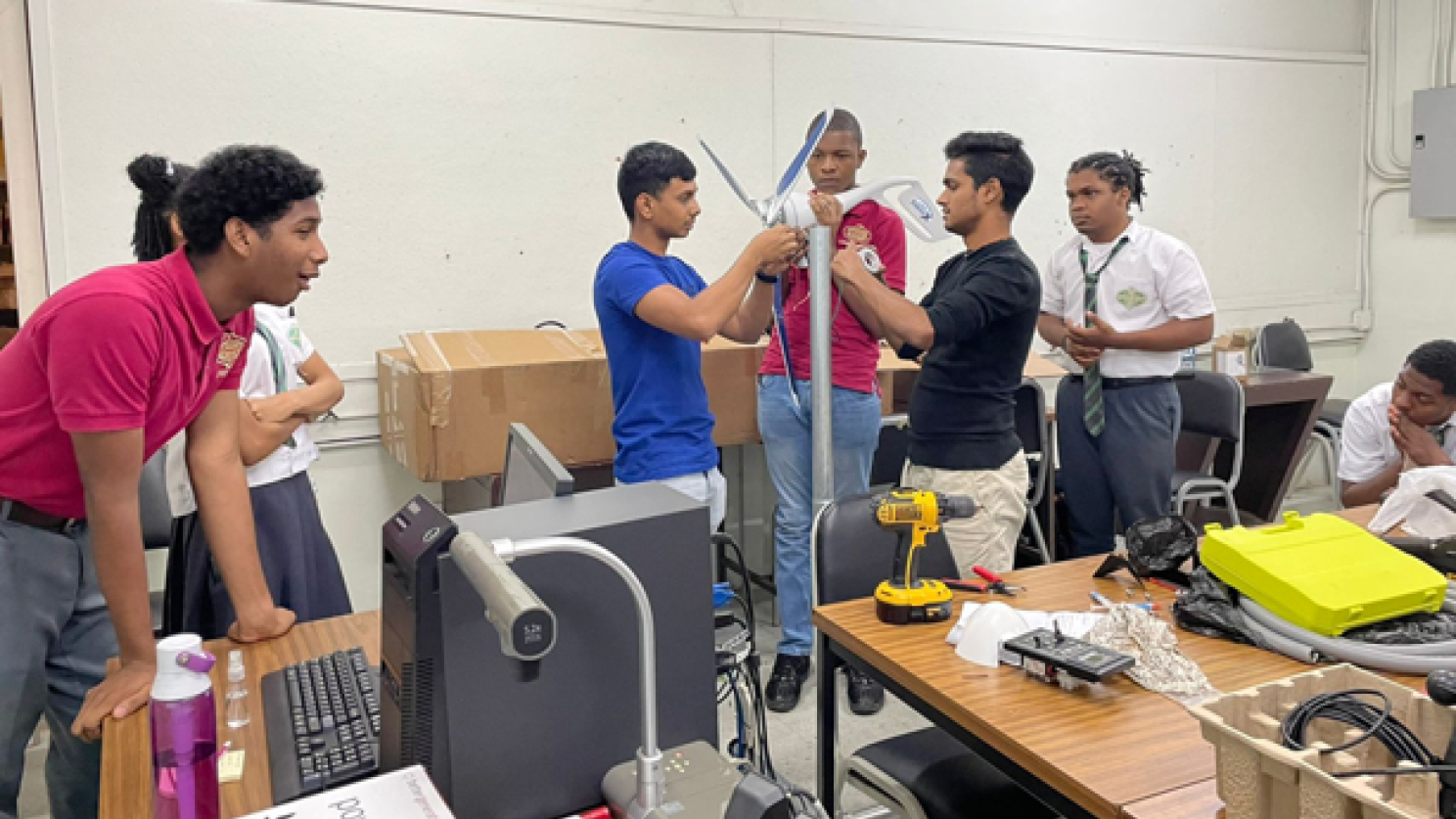 The University of the West Indies – St. Augustine, Trinidad & Tobago
When the students at UWI received their Primus turbine, they conducted several tests to understand the power curve, cut out speed, and the length of time to fully charge a battery. They then calculated the energy savings and emissions offset the turbine would produce for a local school. Following their research, they presented their findings to secondary and middle school students, teaching them about renewable wind energy.