Freewheeling: E-Bikes in Canada
The FedEx Express® cargo e-bike pilot started with three bikes in one city. Today, the company's e-bikes are operating in cities across Canada with plans to expand.
By: Victoria Foote
"It was a no-brainer," recalls Jeff Gilbert, FedEx Express Canada senior manager of operations— Metro division. Gilbert was describing his initial response to the idea of piloting a cargo e-bike program in downtown Toronto based on feedback from his team after they attended an Urban Freight conference hosted by Pembina early in 2020.
Several e-bike models were on display at the conference, and after speaking with the company representatives and researching some of the options available, the rest is history.
Gilbert and his team were inspired by the idea of using e-bikes for last-mile deliveries in the busy Toronto core.  By the end of July of the same year, FedEx-branded bikes were navigating the city's congested streets, delivering parcels that had been packed in the cargo boxes (315 litre carrying capacity) of the three bikes.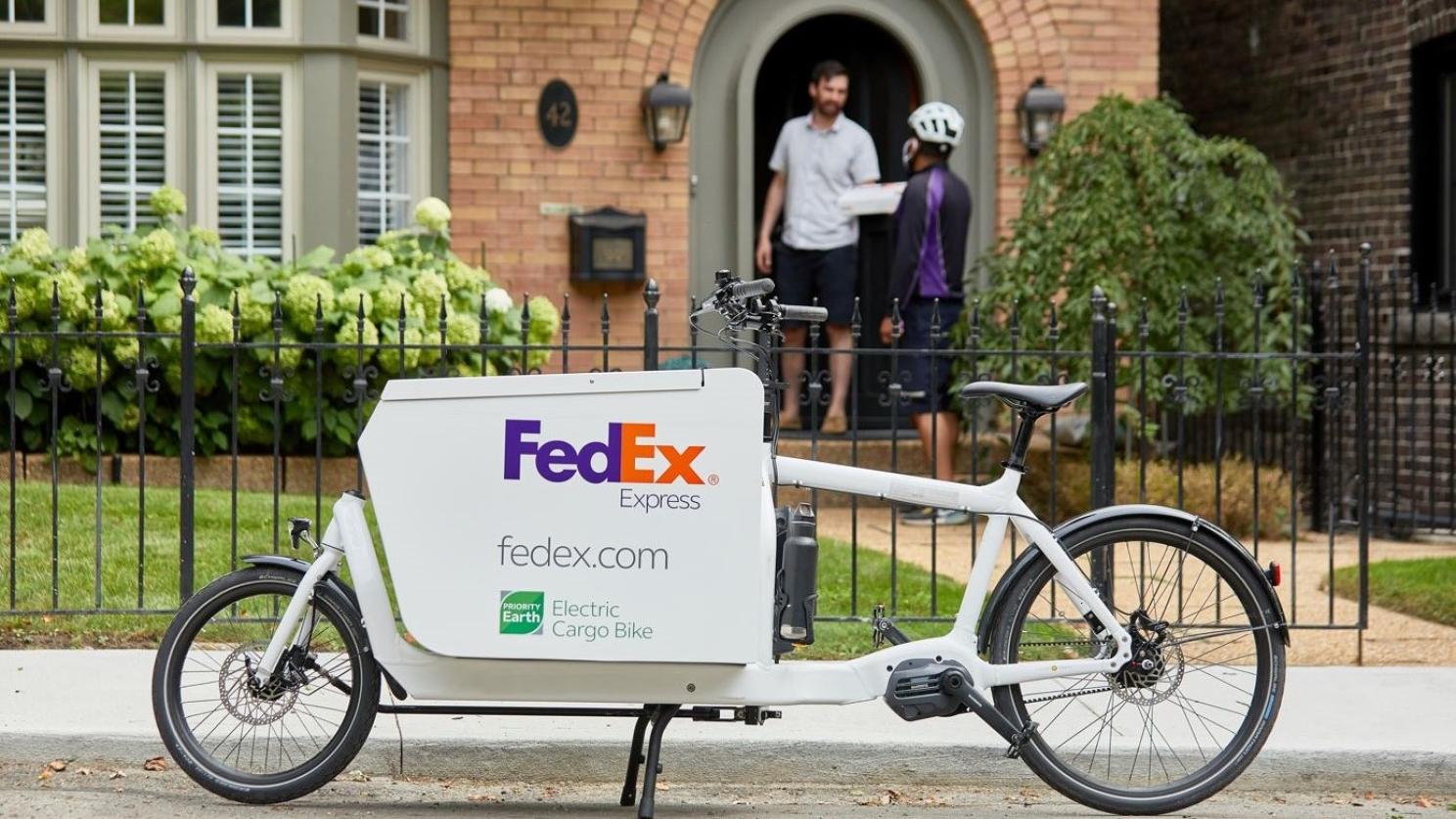 Much thought had gone into the choice of bicycle. After a thorough assessment of the cargo e-bike marketplace, FedEx went with the Bullitt, which is manufactured by Larry vs Harry in Denmark, for the pilot. Light and agile, the bike has three settings, the lowest being "eco" which allows the rider to pedal up to 150 km before needing to re-charge.
Over the course of three to four months, the bikes outperformed early expectations with respect to service in the volume of deliveries. Couriers were covering 25 to 26 kilometres a day along high-density routes.
It wasn't long before word got out and FedEx locations around the world started contacting the Toronto team for updates on the how the e-bikes were performing in Canada's largest city. The head office in the U.S. stayed close to the e-cargo bike fleet's performance. FedEx offices in Mexico, India, London and, not surprisingly, Amsterdam all reached out for more information from the Toronto team. Everyone wanted to learn how to get onboard for the ride.
"When the program launched," laughed senior communications specialist Stephen Anderson, "the riders were like rock stars. People would wave to them and cheer. They still do!"
Stop and start
Less than six months after launching, FedEx decided to expand the program, grow its e-cargo bike fleet, and hire more bike couriers, all in the midst of the pandemic.
As was the case for many delivery services, the lock-down brought both opportunities and challenges. E-commerce skyrocketed. But so did bike sales. Sourcing additional bikes was a bigger headache than originally anticipated as was hiring staff to ride them. Plans for growing the program stalled.
Even so, there was a silver lining to the bike scarcity. While the surge in popularity made it more difficult to buy a bike, the ballooning number of cyclists also encouraged the city to loosen restrictions on permissible bike sizes and to improve bike lanes.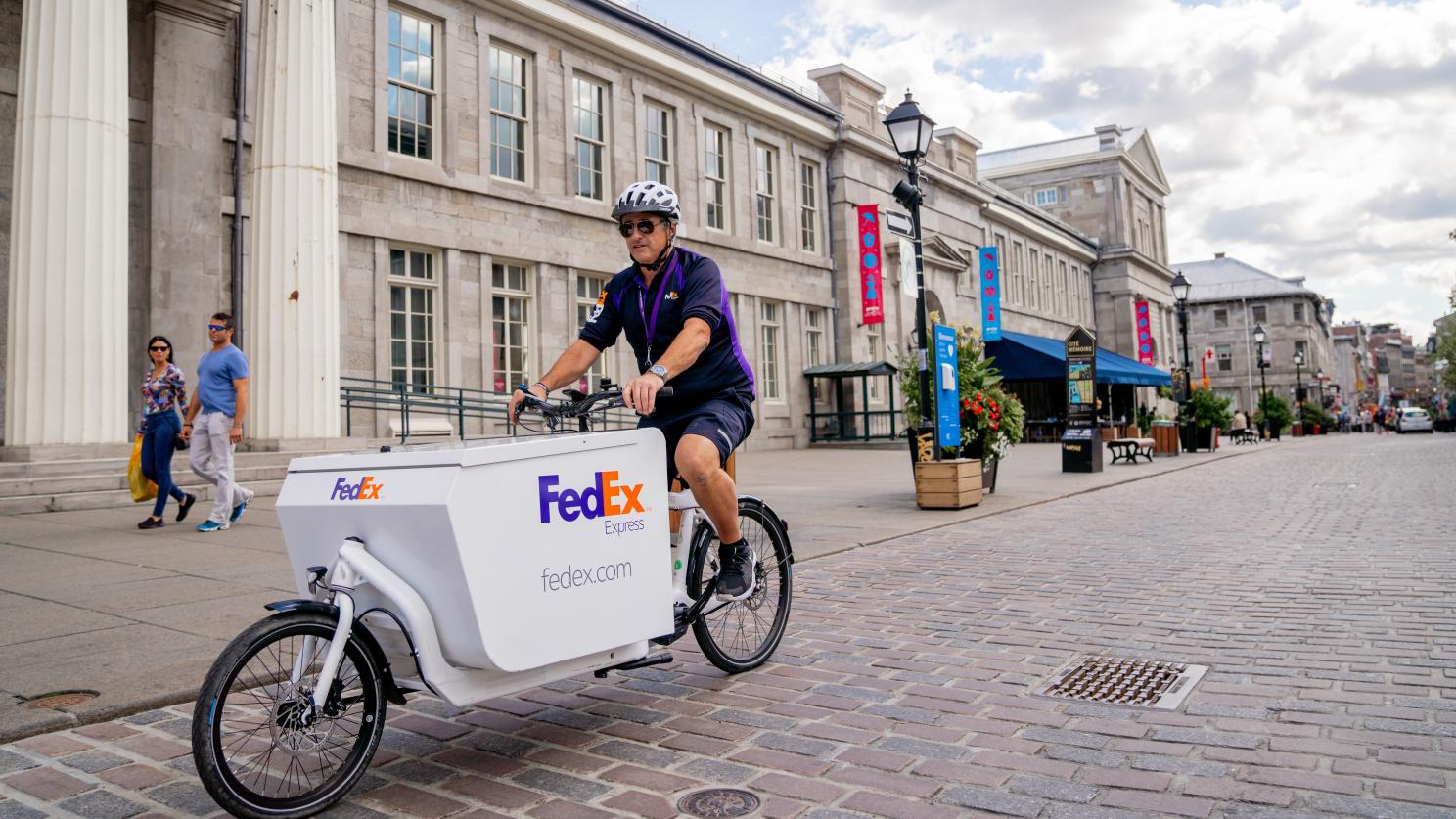 By August 2021, the FedEx team had managed to add 40 more bikes to the fleet and launch e-bike delivery programs in Montreal, Ottawa, Mississauga, Calgary, Vancouver and Victoria. Many of the bikes are stored in "micro-hubs" – there are two in Toronto – where they are loaded with packages before hitting the streets, returning to the hub for more cargo and to re-charge.
Even the hubs are evolving. FedEx recently announced that they will operate some e-bikes out of a new shared micro-hub in Montreal.
Canadians don't mind the cold
But wait. What about deliveries during the long winter months and the season's decidedly un-bike-friendly conditions? "Not a problem," Gilbert said. As evidence, he points out that Calgary was the first Canadian city to join Toronto in offering cargo e-bike service, in 2021.
"We used to say, 'there's going to be six inches of snow, pull the bikes,'" Gilbert added. "But the couriers got mad at us. They said it was fine. So now we leave it up to them to decide whether to ride or not."
It turns out that weather is a deterrent only under rare circumstances, which bodes well for FedEx to continue expanding in Canada, adding to the locations dotted across the country providing cargo e-bike deliveries.
Vision quest
"I'd like to see e-cargo bike fleets grow globally," said Gilbert. Indeed, as one of its sustainability goals, FedEx has set 2040 as the company goal for its entire fleet of pickup and delivery vehicles to be electrified.
Gilbert said that bikes can be helpful wherever they encounter difficulty using a vehicle due to parking constraints, congestion and the like.
It all adds up
Since the first Larry vs Harry cargo e-bike pedalled into the heart of Toronto on a hot day in July 2020, the FedEx e-bikes in Canada have made more than 130,000 stops, delivered more than 145,000 packages, travelled more than 50,000 kms, and averted more than 14 tonnes of carbon emissions.
FedEx and Pembina
The Pembina Institute is a nonprofit think-tank that advocates for strong, effective policies to support Canada's clean energy transition. FedEx is a member of Pembina's Urban Delivery Solutions Initiative – a national network of businesses and organizations working to modernize urban freight operations in Canadian cities. Together we are working to:
Reduce emissions during short-haul urban deliveries
Promote the use of zero-emission vehicles
Increase the national fleet of zero-emissions vehicles and expand the necessary infrastructure
Improve curbside management practices to make deliveries easier and more efficient
Support government, and government officials, at all levels to drive the transition to zero emissions in urban delivery