The Wild Planet Collection- paintings by chimps with help from The B-52's
FedEx donates shipment of the 30 framed canvases 
Guest post by Save the Chimps
Chimps share 98% of our DNA. They are similar to humans emotionally, physically—even creatively. Some chimps enjoy abstract painting, including many of the 220+ apes at Save the Chimps. To spotlight the artistry of apes, and to raise funds for the sanctuary, Save the Chimps partnered with Redwood Art Group to present a collection of paintings by chimps curated by human artists. For Art Santa Fe,  The B-52's worked with the sanctuary to curate the Wild Planet Collection of ape art based on the vivid color schemes of the band's most popular albums. Singers Kate Pierson, Fred Schneider, and Cindy Wilson painted the base coats and chose color combos for the chimps to use. All sales from the collection benefited Save the Chimps and the organization raised more than $27,000 for the sanctuary.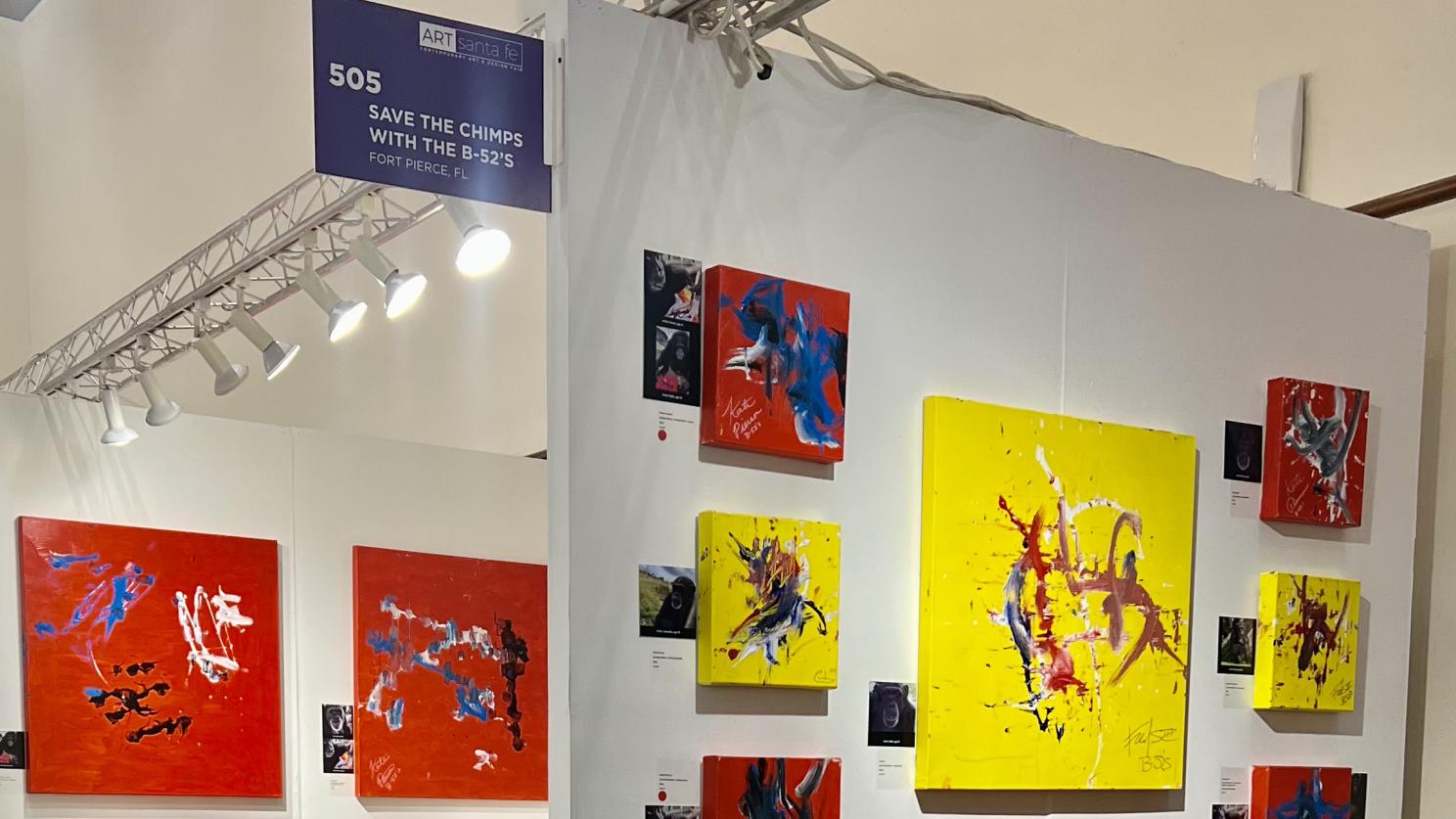 To see more on this exciting collaboration for Art Santa Fe, please click here.
FedEx donated the shipment of the 30 framed canvases as a part of the company's FedEx Cares "Delivering for Good" initiative, in which FedEx lends its global network and unparalleled logistics expertise to organizations with precious cargo requests and helps communities before, during, and after crises. FedEx also played an important role in transporting the Sunrise Seven from the Wildlife Waystation in California to Save The Chimps in Florida.
One of the Sunrise Seven chimpanzees, Vanilla, was recently spotlighted for her incredible journey transitioning from a biomedical research subject to a free, thriving animal living out her best life at Save The Chimps sanctuary. Learn more about FedEx Cares Delivering for Good initiative here.
Save the Chimps is the largest privately funded chimpanzee sanctuary in the world. Situated on 150 acres in Fort Pierce, Florida, the refuge provides exemplary vet care, nutritious food, and social enrichment to over 220 chimps retired from laboratories, the entertainment industry, the pet trade and roadside zoos. Founded in 1997, the sanctuary's Advisory Council includes Jane Goodall, and supporters include Paul McCartney and Pink.
***Photo credit Save the Chimps